Last Updated: May 22, 2023
Exploring Prefabricated Steel Buildings: Design, Cost, and Benefits
KompareIt.com message: Let us do the work for you. Answer a few short questions & get cost estimates for your needs from trusted steel building dealers who service your area. Our service is 100% free!
Steel has long been used as a component in buildings, particularly commercial buildings and skyscrapers. But all-steel buildings were a rare sight until recently, reserved mostly for storage buildings, garages, airplane hangers and the like.
In recent years, all-steel buildings have grown in popularity for all sorts of applications, from manufacturing plants and offices to churches.
When we refer to steel buildings, we're talking about prefabricated buildings made completely of steel, without any wood components. Some of the buildings are pre-engineered, meaning the design plans are ready to go. Others are designed to the buyer's specifications. Either way, the components of the building are made in a factory, then assembled on site.
There are several advantages to prefabricated steel buildings. They are cheaper and faster to build than traditional wood buildings. There's no harsh or inclement weather to deal with when the components are built in a factory, so there are fewer delays and fewer structural issues. Prefabricated metal buildings are also durable and fully recyclable.
The first step to purchasing a prefabricated steel building is deciding on the design, whether that means choosing one that exists or having an engineer come up with a new one. Then you decide what type of roofing, finishing materials, and doors and windows to buy.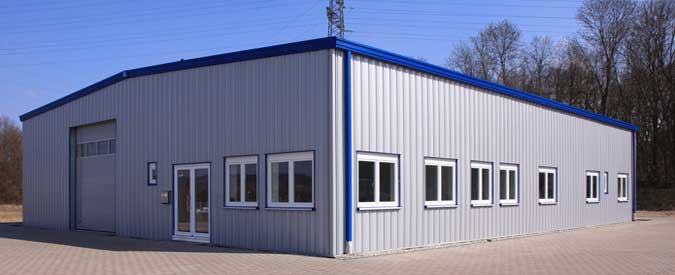 Compare Commercial Steel Building Prices
Fill out our 30 second free form to receive competitive pricing from pre-screened steel building dealers. No commitments. Our service is always free!
Once you've selected a design, the fabrication process begins in the factory, taking up to six weeks. As that is happening, site work such as building a foundation takes place. Once finished, the building components are delivered and assembled on site. Then, finishing work such as interior walls, painting and plumbing complete the job.
Estimating the cost of a steel building is a difficult task. The price varies widely from one region of the country to another, mostly due to local building codes. For example, buildings in cold climates must be stronger in order to withstand large amounts of snow. Further complicating the matter, the price of steel tends to fluctuate.
Generally, you can expect to pay about $15 to $20 per square foot for a very basic steel building - one that might be used as a barn or storage building. That includes materials, foundation, delivery, site work and construction.
A building that is more finished, such as a church or retail store, might run closer to $20 to $30 per square foot.
Any steel building that is highly customized or has high-end features such as a brick facade is likely to cost $40 per square foot or more.
| Company | Price Range per sq ft |
| --- | --- |
| American Steel Buildings | $6 - $20 |
| Whirlwind Steel Buildings | $7 - $25 |
| General Steel | $6 - $20 |
| Max Steel Buildings | $6 - $20 |
| Mueller, Inc. | $7 - $20 |
| Morton Buildings | Starting from $20 |
| Olympia Steel Buildings | $6 - $15 |
| Worldwide Steel Buildings | $7 - $20 |
Watch this video from General Steel to learn more about the cost and timeline for building a commercial steel building.
Warehouses and Distribution Centers: Steel buildings provide spacious interiors, making them ideal for storing and organizing goods in warehouses and distribution centers. Their open design allows for efficient storage and retrieval of items.
Retail Stores and Shopping Centers: Steel buildings are frequently utilized for retail spaces, offering flexibility in layout and accommodating different store configurations. They provide a sturdy and customizable structure for standalone retail stores or shopping centers.
Office Buildings: Steel buildings can be tailored to create office spaces of various sizes and layouts. They offer an efficient and cost-effective solution, providing a durable structure that can be designed to meet specific office needs.
Manufacturing Facilities: Steel buildings are well-suited for manufacturing facilities, providing large, uninterrupted interior spaces that can be customized to fit specific production processes. They offer the necessary structural integrity to support equipment and machinery.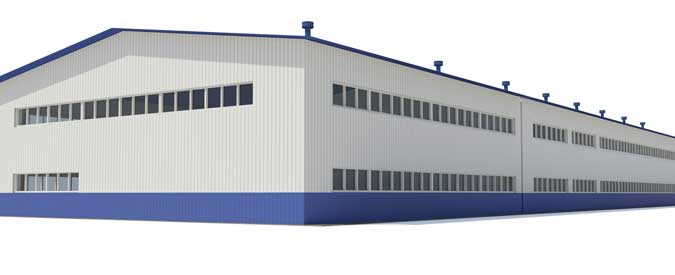 Restaurants and Food Service Buildings: More and more restaurants and food service establishments are opting for steel buildings. These structures offer durability and low maintenance, meeting the requirements of commercial kitchens, dining areas, and other necessary facilities.
Auto Repair Shops and Garages: Steel buildings provide an ideal solution for auto repair shops and garages, offering ample space for vehicle maintenance, storage, and office areas. Their strength and durability protect valuable equipment and vehicles.
Sports and Recreation Facilities: Steel buildings are widely used for sports and recreation facilities like indoor sports arenas, gyms, and community centers. Their open and flexible design allows for large open spaces required for various athletic activities.
Educational Buildings: Steel buildings are commonly used for educational purposes, including schools, colleges, and universities. They can be customized to accommodate classrooms, laboratories, administrative offices, and other educational facilities.
Agricultural Buildings: Steel buildings are a popular choice for agricultural applications such as barns, stables, equipment storage, and livestock shelters. They provide a durable and cost-effective solution for protecting agricultural assets.
Healthcare Facilities: Steel buildings can be adapted for healthcare facilities, including clinics, medical offices, and outpatient centers. They offer the necessary flexibility to create efficient layouts for patient rooms, waiting areas, and medical equipment storage.
Compare Commercial Steel Building Prices
Fill out our 30 second free form to receive competitive pricing from pre-screened steel building dealers. No commitments. Our service is always free!