Last Updated: May 18, 2023
Prefab Warehouse Steel Buildings Buying Guide: Costs, Sizing, and Benefits
KompareIt.com message: Let us do the work for you. Answer a few short questions & get cost estimates for your needs from trusted steel building dealers who service your area. Our service is 100% free!
Steel warehouse buildings offer a variety of benefits, chief among them convenience and cost.
As a building material, steel is cheaper than its traditional construction counterparts (wood and brick), and much quicker to assemble.
With the invention of the Quonset hut in the 1940s, steel warehouse buildings quickly gained in popularity, thanks to their durable construction and reliability. A properly engineered steel warehouse building withstands hurricane force winds. It also resists rust, mildew, warping, and cracking – all dangers with traditional construction. What's more, it is a noncombustible material, making it fire safe. These features combine to make steel buildings cheaper to insure as well as build.
Cost varies widely, depending on size and location.
When hiring a contractor to both pour the foundation and erect the warehouse building, expect to pay between $15 and $25 per square foot for a rigid frame building (subtract around 25 percent for an arch frame). Customization may raise that price to around $40 per square foot, depending on how much customization you require. This includes items such as insulation, windows, doors, and color choices.
Consider the following estimates for a commercial steel building kit:
20 x 20: $10,000-12,000
40 x 40: $16,000-20,000
100 x 100: $70,000-80,000
200 x 200: $275,000-325,000
20 x 20: $6,000-8,000
40 x 40: $14,000-16,000
80 x 80: $40,000-50,000
80 x 200: $80,000-100,000
These costs do not include purchasing or leasing the land.
General Steel: Customizable steel warehouse kits ranging from $6 to $20 per square foot.
Armstrong Steel: Pre-engineered steel warehouse kits priced between $7 to $15 per square foot.
Olympia Steel Buildings: Steel warehouse kits with costs ranging from $8 to $20 per square foot.
SteelMaster Buildings: Customizable steel warehouse kits averaging $7 to $15 per square foot.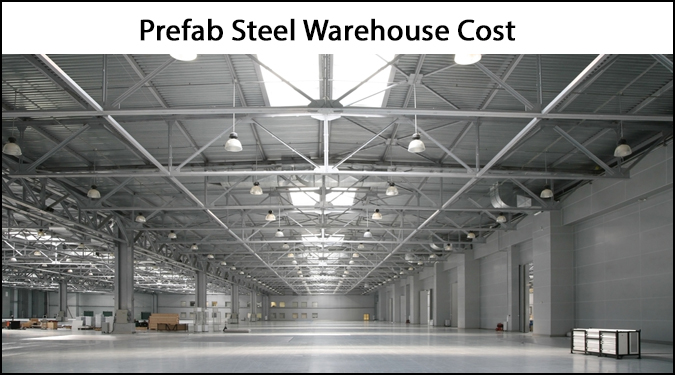 When purchasing a steel building, you have three main options: a broker, a general contractor, and the manufacturer.
The broker acts as the intermediary between the buyer (you) and the manufacturer and builder. You tell the broker what you're looking for – requirements as to size, upgrades like insulation and paint schemes, and your due date for completion. The broker takes this information and obtains proposals from manufacturers, as well as quotes from contractors to pour the foundation and assemble the building per your specifications.
Compare Steel Warehouse Building Prices
Fill out our 30 second free form to receive competitive pricing from pre-screened steel building dealers. No commitments. Our service is always free!
Going directly through a general contractor represents the simplest way for many people, since this cuts out the middle man (the broker). If you intend to hire a contractor to pour the foundation and construct the building, this is probably your best bet. You tell the contractor the same thing you'd tell the broker – size, particulars, and timeframe – and the contractor obtains the materials and erects the building. Generally speaking, the contractor likely already has the proper connections with a steel manufacturer to get a good price on materials.
You can also go directly to the manufacturer. Many companies sell prefab warehouse steel buildings directly to customers, shipping the materials to whatever location you specify. You work with a designer to choose customization options, such as color schemes and insulation. Upon delivery, you either pour the foundation and erect the building yourself, or hire a contractor to do the work for you.
Whichever route you choose, research the particulars of how long construction takes. The manufacturer provides estimates, or your contractor will offer a timeline. If you go with a contractor, look into the slow and busy seasons for your area (they vary by location, as climate plays a large role in determining busy season). If you're looking to save money and have flexibility in your timeline, hiring a contractor during the slow season offers a good chance of getting a discount.
Watch this video to learn more about how a steel warehouse is built.
Steel buildings come in two design types: arch and rigid frame.
An arch frame building, also known as a Quonset hut, works well for many types of buildings, including warehouses and other industrial facilities. You also often see them used for agricultural and military applications. You even see them as residences, especially with new technologies now offering the capability of including windows on the sides.
A Quonset hut features an arched roof and resembles a tunnel. Construction is remarkably simple, meaning they cost substantially less than rigid frame steel buildings. They are a bit more limiting than rigid frame buildings, however, as even with improved technology they typically forbid doors anywhere but the front and back of the building. Another limitation is overhead clearance.
A rigid frame steel building offers greater customization options, similar to those you find in traditional construction. For example, you may place windows and doors anywhere. Though the cost is higher than an arch frame building, it is still substantially lower than traditional construction.
Like Quonset huts, you can use a rigid frame steel building for just about any application, from industrial to retail to residential.
Resources:
Compare Steel Warehouse Building Prices
Fill out our 30 second free form to receive competitive pricing from pre-screened steel building dealers. No commitments. Our service is always free!