Last Updated: May 18, 2023
Steel Barns vs Wood Barns: Cost, Customization, and Durability: The Ultimate Guide
KompareIt.com message: Let us do the work for you. Answer a few short questions & get cost estimates for your needs from trusted steel building dealers who service your area. Our service is 100% free!
One of the most important considerations in building a barn is the material you choose. Steel buildings provide an affordable, durable alternative to traditional construction techniques such as wood. They became popular during World War II for cheap and easy-to assemble storage and were quickly adapted for civilian use.
Steel barns are sold in a wide variety of shapes and sizes. You can also customize features such as windows and doors.
Steel barns start at about $1,000 for a very basic, open-access shelters and range upwards of $50,000 for very large barns. Most average-sized steel barns go for $10,000 to $30,000.
By the square foot, metal barns tend to cost about $25 to $35. However, preassembled metal barn kits can be purchased for as little as $15 to $20 per square foot.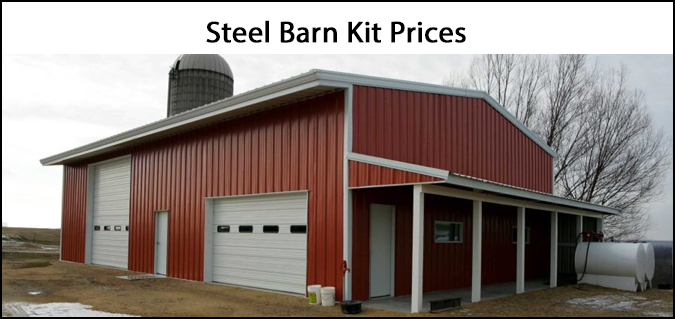 Less maintenance - Steel barns never need painting or staining (but you may paint them if you wish!), and you won't have to deal with loose boards. They require far less maintenance.
Durable - Steel barns are very strong and they hold up well to the elements. The structures are not as likely to be affected by temperature changes and humidity.
Eco-friendly - Steel is one of the most recycled materials on earth. You can buy a steel barn that is made completely from recycled materials.
Compare Steel Barn Prices
Fill out our 30 second free form to receive competitive pricing from pre-screened steel building dealers. No commitments. Our service is always free!
Prone to dents and dings - Steel barns are damaged more easily than wood barns. The metal siding can puncture or tear, leaving jagged edges. They are also prone to denting, which can be repaired.
Not as attractive - Steel barns can be attractive, but most people consider them less attractive than wood barns. Wood barns offer a warmer, more classic look.
Tougher to build - Steel barns require special tools to build. Some experienced handymen or contractors may not have the required materials and knowledge.
Watch this video to learn more about the pros and cons of steel vs wood barns.
Wood barns have been around much longer than steel barns, and the look is considered classic and traditional. Although steel buildings have dramatically increased in popularity over the last 60 years or so, wood barns are still very popular for a variety of uses, including housing horses and other farm animals or extra storage space.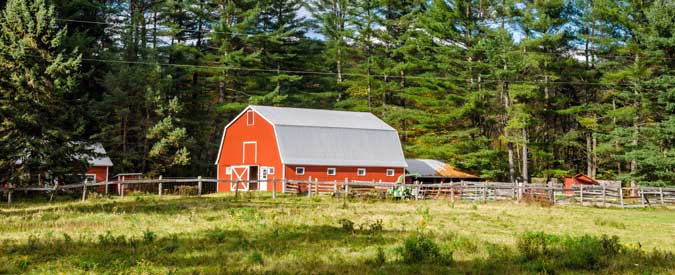 Wood barns are more expensive, costing about $45 to $65 per square foot. That price does not include any electrical or plumbing. However, you can purchase a preassembled wood barn kit for around half that price.
More attractive - Most people consider the warm look of wood barns to be more attractive than steel.
Easier to build - Wood barns are easier to build, relying on more conventional tools and techniques.
Won't dent or ding - Wood burns are not very susceptible to dents or dings. They can withstand more use and abuse.
More maintenance - Wood barns require significantly more maintenance than steel barns. They need to be stained or repainted every few years.
Sensitive to the elements - Wood barns are strong, but they are more vulnerable than wood to temperature or humidity changes. Temperature changes cause the wood to expand and shrink, which can lead to cracks and other damage.
Not as eco-friendly - Many wood barns are made with "virgin" wood, not recycled wood. They're typically not as green.
What is my budget and purpose for the barn?
How are the weather conditions in the area?
Do I prioritize the aesthetic appeal of the barn?
Is it a long-term investment or temporary structure?
How much maintenance am I willing to undertake?
Are there any building codes or restrictions to consider?
What are the environmental considerations?
Will the barn require specific features or customization?
Do I have the necessary resources or access to contractors?
Resources:
Compare Steel Barn Prices
Fill out our 30 second free form to receive competitive pricing from pre-screened steel building dealers. No commitments. Our service is always free!