Last Updated: February 13, 2023
Compare Pole Barn vs Steel Building Costs
KompareIt.com message: Let us do the work for you. Answer a few short questions & get cost estimates for your needs from trusted steel building dealers who service your area. Our service is 100% free!
Steel buildings are a popular choice for all sorts of residential and commercial applications, from barns and garages to churches, manufacturing plants and warehouses. Steel buildings are durable, but they are also quick and affordable to build because much of the work is done in a factory before the building arrives on your site. Once on site, only the final assembly is required.
Unlike pole barns, steel buildings require a full foundation. They don't have the same size limitations, so they can be much larger. However, the larger size usually requires a thicker and more expensive gauge of sheet metal for the siding and roof.
Plan on spending about $16 to $20 per square foot for a very basic, unfinished steel building. That includes materials, delivery, foundation and construction. More finished buildings usually cost $20 to $30 per square foot.
Looked at another way, most average-sized steel buildings cost about $20,000 to $50,000. That will get anywhere from about 1,000 to 4,000 square feet. Prices vary based on geographic location, the size of the building and the level of finishing.
Durable - Steel is one of the most durable materials available. It is strong, long lasting, and holds up well to the elements.
Low maintenance - Steel buildings require very little maintenance. Unlike wood, you don't have to worry about painting or staining them every few years.
Compare Steel Building Prices
Fill out our 30 second free form to receive competitive pricing from pre-screened steel building dealers. No commitments. Our service is always free!
More expensive - Steel buildings are more expensive than pole barns because a foundation is required. The foundation will add a significant chunk of money in both labor and materials.
Tougher to build - Experienced do-it-yourselfers might be able to build their own pole barn, but a steel building is much trickier.
Difficult to finish - It is difficult to finish the interior of a steel building, or to create separate rooms.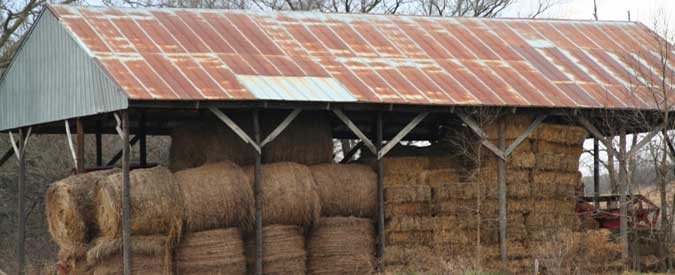 A pole barn is a multi-purpose building that does not have a traditional continuous foundation. Instead, the foundation consists of tall wooden poles sunk deep in the ground and set into a concrete slab. Although the poles are typically made of wood, the building can be framed with wood or metal.
A pole barn can be used for traditional farming purposes - to house livestock, hay or feed. Most have large, sliding doors for easier transport of animals or materials. Or the buildings can be used as garages, workshops or sheds.
Pole barn prices vary greatly from one geographic location to another. Very generally, you can expect to pay about $15,000 to $25,000 for a basic, average-size kit with no windows. That price is just for the kit; it does not include any labor costs you'll incur. A concrete slab might cost $5,000 to $10,000 extra.
Less expensive - Pole barns are less expensive than steel buildings because no continuous foundation is required. You'll save a significant amount of money on both materials and labor.
Faster to build - Pole barns go up much faster than steel buildings, also because no foundation is necessary.
More attractive - Most people considered wood pole barns to be more attractive than steel buildings. The look is warmer and more inviting.
Size limitations - Pole barns can be no wider than 90 feet.
No basement - Pole barn kits are not compatible with basements or continuous foundations.
Compare Steel Building Prices
Fill out our 30 second free form to receive competitive pricing from pre-screened steel building dealers. No commitments. Our service is always free!