Last Updated: June 14, 2023
Cost of Elevator Access Control Systems: What to Expect
KompareIt.com message: Let us do the work for you. Answer a few short questions & get cost estimates for your needs from trusted access control companies who service your area. Our service is 100% free!
Elevator access control systems greatly increase the security in your building, which is a high priority for most organizations today. With a control system, you limit admission to authorized personnel and require visitors to sign in before accessing the elevator. Capabilities include setting parameters for specific timeframes and floors, with employees and other authorized personnel gaining access via an electronic ID, such as a badge or key fob. If the employee loses his or her ID, or terminates employment for any reason, your security team simply deactivates the employee's identification device.
Costs vary widely depending on the type of system you choose, the number of elevators you have, and the number of users. Of course, vendors also charge different amounts. You also need to consider additional costs, such as cards, which typically are not included with your system.
On average, you'll pay between $1,500 and $2,500 to have a single keypad or card-based access control unit installed. As you add units, your per-unit pricing drops to around $1,700. You also need to pay for blank cards, which run around $5 each. Printable cards cost around $8, and key fob cards cost around $9.
A biometric system costs considerably more, at least $10,000. These systems typically include the biometric technology as well as electronic locks and network capabilities.
When reviewing proposals, look for a vendor that offers support – both online and via telephone – and maintenance, especially during the first year. Most manufacturers' warranties provide ample coverage, but some vendors still offer extended warranties.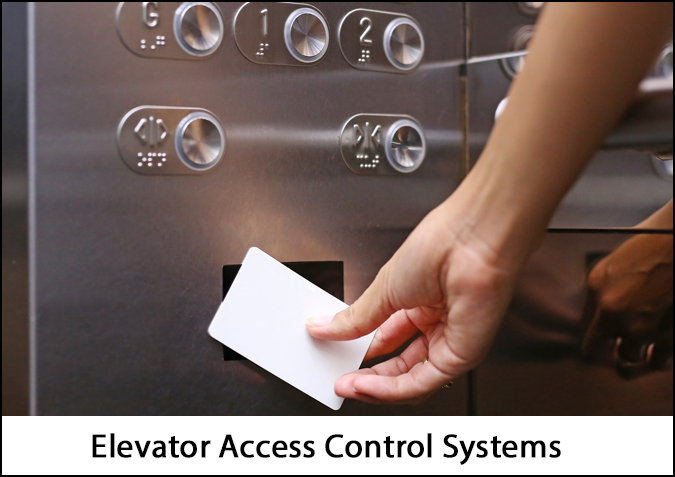 KONE: A global leader offering advanced elevator access control solutions.
Otis Elevator Company: Provides comprehensive access control solutions with customizable access levels.
Schindler: Offers secure and efficient elevator access control systems.
Thyssenkrupp: Provides secure credential management and customizable access rights.
Fujitec: Trusted provider with key card or key fob access and seamless integration.
Hitachi Elevator: Offers advanced authentication methods and customizable access permissions.
Compare Elevator Access Control Prices
Fill out our 30 second free form to receive competitive pricing from pre-screened access control companies. No commitments. Our service is always free!
Access control systems for elevators are categorized according to the credentials you require authorized personnel to use. The three main access methods are keypads, card controls, and biometrics.
In a keypad system, each user is given a code that allows him or her to gain entry to the elevator. Until the employee enters his or her code into the keypad, he or she is unable to summon the elevator. Alternatively, if only certain floors are forbidden, the keypad grants access to the particular floor. If you only require access control for certain floors, you should also implement the keypad system in stairwells, since providing security-free ingress into a protected floor, such as via a stairwell door, renders your access control system ineffective.
You have numerous options for assigning codes, but avoid using a single code for every authorized user, as this makes determining who goes where impossible. Keypad systems offer a variety of benefits but have one significant drawback: it's very easy for employees to share the code with unauthorized users. This is easily the greatest risk with a keypad elevator access system.
These systems come in two main varieties: keycard/key fob and proximity cards or magnetic stripes and barcodes. The two methods are very similar but do have certain differences. If the employee loses the card, simply deactivate it and assign a new card.
Keycards and proximity cards may be the most common form of employee identification. They may require swiping but most use radio frequencies (RF) that allow the reader to identify the card within a certain radius. These cards typically double as the employees' work ID and include whatever data the organization requires, as well as the worker's photograph. The access control system "reads" the data included in the card, such as the employee's ID number, to grant access to the elevator.
Magnetic stripe or barcode cards work much the same way as keycards and proximity cards do, but the necessary information to authorized elevator access is accessed through the stripe or barcode.
Both types of cards often double as employee identification cards, and may also be used to grant building and parking lot access. Some organizations also allow employees to "load" the card for use in a company cafeteria or gift store.
As the technology becomes more affordable and security needs more acute, these more sophisticated systems have grown in popularity in recent years. Biometric systems include palm, retinal, finger, and voice scanners. Their popularity is due to the near impossibility of duplicating whichever biometric measure is chosen.
Biometrics offers probably the most stringent security. These systems make more sense for larger facilities, such as banks and hospitals, as well as government offices. As with other control systems, you can limit access based on a variety of parameters, including floors, times, individuals, and groups. Elevator access control systems offer a great deal of flexibility without negatively affecting security. You can easily make changes to classifications, times, and even individual elevators within the system.
Watch a demo of an apartment building elevator access control system with QR code verification.
Compare Elevator Access Control Prices
Fill out our 30 second free form to receive competitive pricing from pre-screened access control companies. No commitments. Our service is always free!