Last Updated: March 10, 2023
Compare PBX vs VoIP Phone System Costs
KompareIt.com message: Let us do the work for you. Answer a few short questions & get cost estimates for your needs from trusted VoIP phone services companies who service your area. Our service is 100% free!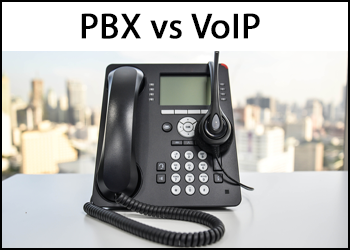 Private Branch Exchange (PBX) phone systems have long been the traditional option for mid-size and large companies. PBX phone systems rely on telephone hardware and switches to route calls. The hardware is stored in a telecom cabinet that resides in the office.
PBX systems typically come standard with many of the features a large company needs, including auto-attendant, voicemail, conferencing and dial-by-name directories. And they are fully programmable, allowing business to add or remove features at their convenience.
The price of a PBX phone system is largely determined by the size of the company. In most cases, budget about $800 to $1,000 per employee. That includes the base system, the actual phones, additional features, wiring and installation, and any training and support your company needs.
Larger companies placing big orders will get a volume discount, paying on the lower end of that price range, while small- to mid-sized companies will pay on the high end.
Compare Phone System & Service Rates
Fill out our 30 second free form to receive competitive pricing from pre-screened phone system & service companies. No commitments. Our service is always free!
Low maintenance - Once a PBX phone system is set up, you're all set. The systems do not require regular upgrades or maintenance that can lead to downtime.
No outages - Even if your computer network is down, PBX phone systems will work. A network problem won't completely cripple your business.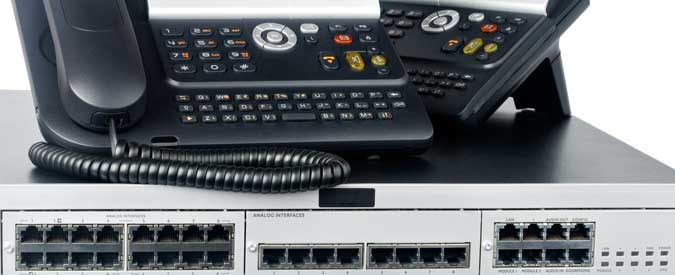 Price - PBX phone systems tend to be more expensive than VoIP, although the price difference isn't as dramatic as you might expect. The wiring and installation costs significantly more.
Mobility - PBX phones systems rely on older technology that is not as friendly to today's mobile workforce. They can't be converged with laptops and smart phones like VoIP.
Voice over the Internet Protocol (VoIP) is newer technology that relies on a broadband Internet connection to make phone calls rather than a traditional phone line. Special IP-enabled phones are used.
There are two types of VoIP systems. IP-PBX requires on-site hardware, much like a traditional PBX system. Hosted systems, on the other hand, route calls at an off-site data center.
Prices for VoIP phone systems with on-site hardware begin at about $2,000 for a company that needs five extensions. That includes the cost of the handsets, hardware, software, installation and training.
Companies with 30 to 50 extensions should budget $10,000 to $50,000. For large companies with hundreds of extensions, the price could reach the hundreds of thousands.
Remote connectivity - VoIP is a great option for companies with multiple locations. The system makes it easy to connect to employees at other branches and telecommuters. The system also allows features to be shared across multiple locations.
Cost savings - VoIP systems typically cost less expensive to install. There's no additional wiring to do because the network infrastructure to operate the phones is already in place.
Network dependency - VoIP systems won't work if your local network is down. If the server crashes, so do your phones.
Network demands - VoIP eats up a lot of bandwidth. It takes a robust network to handle both voice and data.
Downtime - VoIP systems require regular maintenance and updates that may necessitate downtime.
Watch this video by Rich Technology Group for an explanation of VoIP PBX (Hosted Cloud Phone Systems)
Choosing a phone system can be difficult. Even after you've decided on PBX or VoIP, there are many different brands and myriad features to consider. These tips should help you in the selection process:
Talk to other businesses - Compare notes with similarly-sized companies to find out which phone system they purchased and why. How is the phone system working out? Would they recommend it to others?
Take it for a test drive - Never buy a phone system without doing a demo first. You'll never know if the system is user-friendly if you don't actually use it. Are the phones comfortable to hold? How easily can you transfer a call to another extension? Are speakerphone calls clear?
Plan for growth - A phone system is long-term investment, so think about where your company might be five or 10 years down the road. Make sure you buy a phone system that is scalable so it can grow with you.
Buy at the right time - The best time to buy is at the end of the quarter, when sales teams are scrambling to meet their goals. You're likely to get a better deal than if you bought at the beginning of the quarter
Sources:
Compare Phone System & Service Rates
Fill out our 30 second free form to receive competitive pricing from pre-screened phone system & service companies. No commitments. Our service is always free!