Last Updated: March 10, 2023
Hospital Phone Systems: Medical Office Phone System Prices, Features, and Benefits
KompareIt.com message: Let us do the work for you. Answer a few short questions & get cost estimates for your needs from trusted VoIP phone services companies who service your area. Our service is 100% free!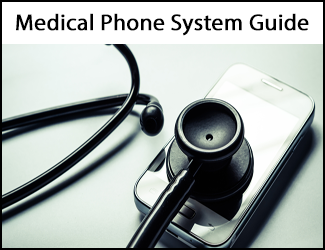 Today's phone systems combine computer and communications technology, helping hospitals streamline operations while still providing excellent patient care. Your patients need the ability to reach you in an emergency, while you and your staff need a versatile, reliable phone system.
Watch an overview of VOIP phone systems for applications by practitioners in healthcare and telehealth.
You have two main options for a networked phone system: local hosting and cloud-based. Within these, you have PBX and VoIP systems.
PBX stands for private branch exchange, and may also be called IP PBX, for Internet Protocol PBX. The system connects to both the external public telephone system and your internal system. A PBX system easily expands to meet your needs.
VoIP, or voice over Internet protocol, helps streamline both services and costs. VoIP allows automation that help eliminate some human costs, allowing patients who call in to connect with a person or department without going through a switchboard operator.
Cloud-based systems work the same way. The main difference is that, instead of hosting the system yourself, you use a virtual host.
Costs for any phone system vary widely, depending on the number of features you choose, how many extensions you require, how many external phone lines you need, your vendor, and your location.
However, though giving a precise cost is not possible without knowing all of your requirements, there is an average cost. Expect to pay around $1,000 per hospital employee/user for a PBX system. Some cost examples include:
Expect to pay around $150 per PBX phone
Prices for the PBX system itself start at around $300 and go up from there, depending on the number of lines supported
Bundles of PBX phones and system start at around $800 for four phones and go up to around $2,000 for 10-phone systems
This does not include the cost of install or monthly phone and data service through your telecom provider. These costs vary widely from place to place and provider to provider.
Compare Phone System & Service Rates
Fill out our 30 second free form to receive competitive pricing from pre-screened phone system & service companies. No commitments. Our service is always free!
The cost of any phone depends on the features you need. Most providers offer packages wherein the provider bundles the most popular features, such as voicemail and call forwarding. Cost also varies according to your existing infrastructure and whether it needs to be expanded or modified to handle the new technology.
The upfront costs for VoIP include infrastructure, hardware, and installation, and may represent a significant portion of your budget. Monthly savings in what you pay for long distance and interoffice calls, as well as administrative services, help offset these costs.
A 16-phone setup with standard features ranges from $8,000 to $30,000.
A 64-phone setup, including install and dedicated service, ranges between $35,000 and $50,000.
A refurbished 48-phone Cisco system starts at around $8,000 for the unit only. Features include voicemail, voice-to-email, auto attendant, dial-by-name, and call recording.
A new Avaya system with the same features as the Cisco unit sells for around $15,000.
A 180-phone Vodavi system with these same standard features costs around $50,000.
Cloud-based systems offer the same benefits of a self-hosted PBX system, such as conference calls, voicemail, and transfer capabilities, but include additional features hospitals and other medical offices appreciate.
One of these is video conferencing, which allows doctors to consult with their patients in the virtual world (also referred to as telehealth or telemedicine). This feature is very desirable in the post Covid19 world and comes with many benefits. Another is the ability for administrative employees to work remotely. In addition, a cloud system is typically less expensive, making it easier to control costs.
Plans vary widely, depending on features and number of extensions. Some providers offer packages starting as low as $10 per month, extending to around $50 per month.
You may also see annual price plans and per-minute plans. Annual plans range from around $130 to $600. Plans charging by the minute are more feasible for small operations, starting at around 30 cents per minute and maxing out at around 80 cents per minute.
Installation is a highly involved process, with installation of a 10-phone system taking nearly as long to complete as that of a 30-phone system. Pricing varies by vendor and location, but average pricing includes:
$1,200 for 5-15 phones
$2,200 for 16-25 phones
$3,000 for 25-50 phones
$50 per phone for 50 or more phones
Again, pricing varies according to features, vendor, and location, but these prices serve to assist in budgeting.
To get the best system for the best price that meets your hospital's needs, obtain quotes from multiple vendors and review contracts closely.
Sources:
Compare Phone System & Service Rates
Fill out our 30 second free form to receive competitive pricing from pre-screened phone system & service companies. No commitments. Our service is always free!