Last Updated: April 27, 2023
How Much Does a ThermoSpas Hot Tub Cost?
KompareIt.com message: Let us do the work for you. Answer a few short questions & get cost estimates for your needs from trusted hot tub dealers who service your area. Our service is 100% free!
A ThermoSpas hot tub will cost as little as $4,000 or much as $20,000 or more depending on the model and features you desire. The average price for a mid level model will run around $10,000, not including installation. Cover lifters, stairs, LED lights and speakers will add to the overall cost of your ThermoSpas hot tub.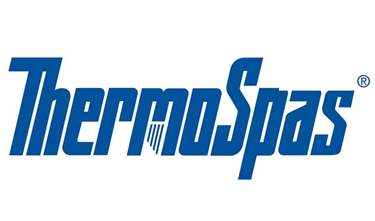 For pure relaxation, nothing beats soaking in a hot tub. The hot water, massaging jets, and bubbles work together to wipe away stress and worry. It's also a fun way to relax with friends and family or enjoy some quality time with that special someone. A ThermoSpas hot tub offers the ultimate in luxury relaxation, with custom-made spas available to suit any décor or budget.
ThermoSpas create quality hot tubs made with the finest components and technology available today. Customers can design their ideal tub with anything from eight to an incredible 172 jets. As you add features and increase seating (and therefore size), pricing increases. A ThermoSpas dealer will even conduct a free inspection of the area where you wish to install your new hot tub and work with you to determine the size and features that best suit your needs. Delivery and installation charges are usually included in the price of the tub.
A ThermoSpas hot tub is built using quality parts, starting with their titanium heaters. The heater is the component that usually fails first, since it gets the most rigorous use. Most hot tub manufacturers use stainless steel to create their heaters, but ThermoSpas' titanium models hold up better against regular wear and tear.
ThermoSpas hot tubs also differ from the competition in terms of insulation. Most manufacturers use foam insulation, but ThermoSpas uses high-density insulator panels. Shell design options include your choice of color, as well as variations such as marble and granite. Choose between gel coating, acrylic, or plastic for your shell.
Customers choose from 12 designs, each of which serves as the starting point to customize their unique hot tub.
Their most popular line is the Designer Series, which includes four different models:
The Concord: This mid-sized tub seats four and includes a love seat and V-shaped form. Jets include foot and calf massage.
The Healing Spa: This is an award-winning design with intuitive controls that seats five.
Park Avenue: The company's most popular design seats five and includes a double-wide wave lounge.
Manhattan: The largest tub in the Designer Series line seats up to six adults.
The Aquatic Series is the ThermoSpas line that focuses on luxury design and innovation. Models include the three-seater Maui, four-seater Islander, and five-seater Dolphin.
ThermoSpas also offers a line of exercise spas. These models provide enough room to perform hydrotherapy exercises. Warm water cushions your joints against exercises normally performed in a gym so you get all of the benefit with a reduced risk of injury. Options include the Aquacisor, Olympian, and Spa Trainer Swim Spa, which creates a current for you to swim against.
Compare Hot Tub Prices
Fill out our 30 second free form to receive competitive pricing from pre-screened hot tub dealers. No commitments. Our service is always free!
Pricing varies greatly, from around $4,000 to over $20,000, depending on the basic model you choose and the features you add to your new hot tub. For example, the Triton Deluxe costs around $10,000 and includes decorative LED lighting, remote-controlled waterfall, LED pillow, stereo, and water purification system. The model also comes with a protective hard cover. For another $1,000, you can get the Triton Luxury, which includes all of the above plus lounge seating and 51 therapeutic jets to help ease away stress.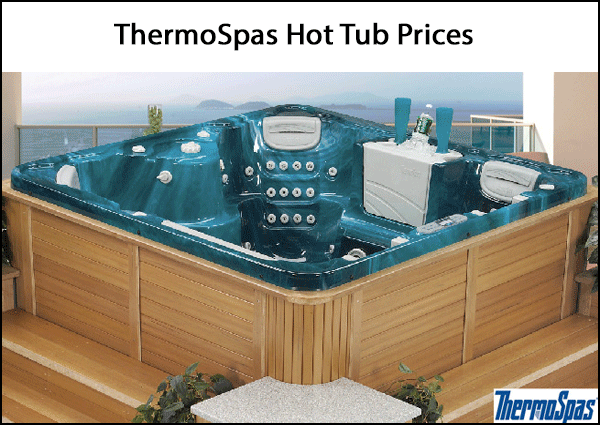 The Swim Trainer starts at around $12,500 and includes eight jets, three pumps, LED lighting, a steel frame with composite cabinet, and two cover lifts.
A variety of special features add to the overall cost of your hot tub, with each adding anywhere from $100 to $1,000 to the total price.
A docking station for your iPod, with Wi-Fi capability, costs between $200 and $350
An automatic cover lifter will cost you between $200 and $400
Audio features include retractable speakers and subwoofers and cost between $500 and $1,000
LED lighting costs between $100 and $300
Safety features, such as rails and stands, cost between $200 and $300
Customers choose ThermoSpas in large part due to their incredible quality and strong customer support. They work with you to determine the best features to design your ideal hot tub, and even help you determine the best place to install your new spa. They're also an industry leader in pumps and filtration, and offer a 10-year, no fault warranty on all electronic components. They also offer a 20-year structural warrant and 10-year equipment replacement warranty, which combine create some of the best warranties in the hot tub industry.
References:
Compare Hot Tub Prices
Fill out our 30 second free form to receive competitive pricing from pre-screened hot tub dealers. No commitments. Our service is always free!