Last Updated: April 27, 2023
How Much Does a Hot Tub Cost?
KompareIt.com message: Let us do the work for you. Answer a few short questions & get cost estimates for your needs from trusted hot tub dealers who service your area. Our service is 100% free!
At the end of a busy day, relaxing in a hot tub is the perfect way to unwind. Hot tubs also have health benefits, soothing sore muscles and relieving joint pain. If you're in the mood to socialize, they provide a great place to hang out with family and friends.
There are several different types of hot tubs, each available in varying sizes and shapes. There are one-person inflatable tubs or fancy in-ground models with features like TVs and digital displays. Not surprisingly, the price varies widely based on the type of hot tub you choose - anywhere from just $500 to upwards of $15,000.
Essentially, there are four types of hot tubs:
Portable or inflatable spas are the smallest and least expensive. They seat 1-4 people, have very few features and cost as little as $500-$2,000. However, the lifespan of these hot tubs is much shorter and the water loses heat quickly.
Acrylic spas are by far the most popular, ranging in price from $2,000-$7,000, depending on size and features. They sit above ground and seat 2-10 people. Typically, they have features such as built-in seating, jets and lighting.
Wooden hot tubs were popular in the 60s and 70s, but they're seeing a resurgence. They also seat 2-10 but they don't always have jets. Prices range from about $1,500-$7,000, depending on size and quality.
In-ground spas are the most expensive because they require a custom design and complex installation. These can be just about any size, although they typically seat no more than 14 people.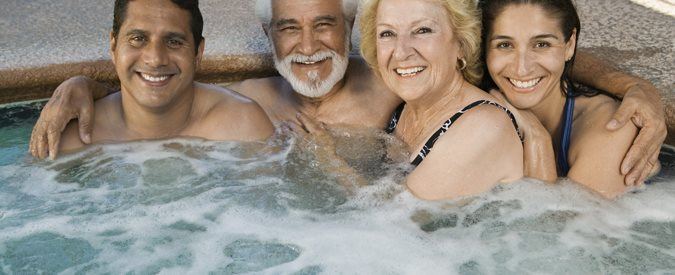 In addition to the purchase price, you'll need to budget for installation and recurring expenses. Acrylic hot tubs require a flat surface such as a deck or concrete slab - you'll have to pay for one if it doesn't already exist. An electrician to hook up the tub should cost about $75-$125 per hour and take a couple hours.
The electricity to power your tub should run about $20-$40 per month. Chemicals and replacement filters cost about $200-$300 per year.
Delivery is sometimes included in the sale price; others times not. If not, it might cost several hundred dollars. However, free delivery is typically something you can negotiate into the purchase price.
Compare Hot Tub Prices
Fill out our 30 second free form to receive competitive pricing from pre-screened hot tub dealers. No commitments. Our service is always free!