Last Updated: February 14, 2023
Compare Costs of Hiring a Pest Control vs DIY
Termites, ants, spiders or rats - they don't belong in your home. Pests destroy homes and buildings, costing billions of dollars in damages each year. They also carry diseases, contaminate food and make our surroundings less pleasant.
If you have a pest problem or you're looking to prevent one, there are two options: hire a professional or give DIY extermination a try. Read on to learn a little more about the costs and benefits of each.
Prices for professional pest control services vary from region to region and from one company to another. Prices also vary based upon the type of service you need - preventative care or extermination.
If you do NOT have an infestation but are looking to prevent one, budget about $300 to $500 per year for an inspection and protection plan. The service covers annual inspections, as well as the cost of pest control services if a future inspection uncovers a problem. Consider it pest insurance.
If you do have an infestation, the cost is higher. Expect to spend anywhere from about $400 to $2,000 or more per year for monthly or quarterly pest control treatments, depending on the pervasiveness of the problem.
The vast majority of pest control companies offer free initial inspections, money-back guarantees if you are unhappy with the service, and free additional visits in between regular appointments if the pest problem persists.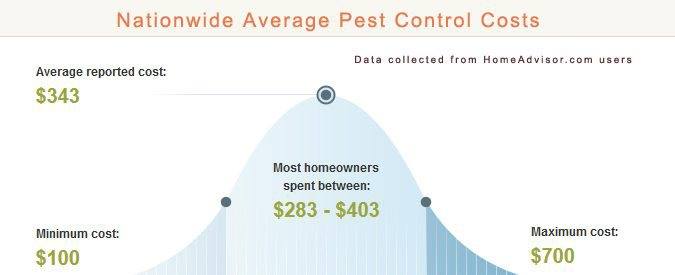 Try Our Free Pest Control Cost Calculator
Fill out our 30 second free form to receive competitive pricing from pre-screened pest control companies. No commitments. Our service is always free!
The cost of DIY pest extermination varies based on the type of pests you have and the severity of the infestation. The labor is free, of course, but you'll have to spend money on supplies such as insecticides, poisons, chemical sprayers, baits and traps, and protective gear.
Here's an idea of what you can expect to spend for various items:
Professional insecticide: $20 to $100 per container, depending on type and size.
Sprayer: $15 to $200. On the low end of that price range, you'll get a tiny handheld sprayer. On the high end, you'll get a professional-capacity backpack sprayer designed for larger jobs.
Protective suit: Less than $20 for a disposable suit and up to $200 for a complete bee suit.
Full safety kits: Around $20 for a disposable suit, gloves, mask and goggles; and around $100 for a professional kit that also includes a respirator mask.
Bait gun with insect-killing gel: $75 to $150.
Even though you're not paying for labor, these costs add up quickly. Before you tackle DIY extermination, figure out the total cost of all necessary equipment and compare that cost to a professional service. In some cases, the cost savings are small. In other cases, the savings are considerable.
Professional expertise - If you don't know what you're doing, DIY extermination wastes time and money. When you hire a professional, you can feel fairly confident that the problem will be eliminated.
Convenience - DIY pest control requires time and energy. Hiring a pro is much more convenient. You can even schedule service appointments when you're not home (although this is not recommended for the first visit).
Safety - The chemicals used to kill insects and rodents can be dangerous, particularly to children or pets. Experts know how to properly handle the chemicals to avoid accidents, poisoning or contamination.
Cost - Hiring a professional pest control service is typically more expensive than DIY extermination. If you know what you're doing and the problem is relatively small, you can save money by tackling the problem yourself.
Scheduling - You'll have to work with the company you hire to set up convenient times for appointments, as opposed to simply working on the problem in your spare time. However, most companies are happy to work around your schedule.
Try Our Free Pest Control Cost Calculator
Fill out our 30 second free form to receive competitive pricing from pre-screened pest control companies. No commitments. Our service is always free!