Last Updated: February 14, 2023
Compare Costs of Hiring a Moving Company vs DIY
Hiring a moving company takes the hard work and stress out of the moving process. It is especially convenient if you have a large house or if you're moving a long distance.
You can hire a full-service mover to handle everything from packing to transporting and unloading, or you can do the packing yourself but leave the heavy lifting to the pros.
Some people worry about putting their belongings in the hands of strangers. To minimize your risk, choose an established company that carries insurance to cover the cost of any damages. However, most moving services are pros at proper handling.
It is difficult to estimate the cost of a hiring a moving company because it depends on the size of your home or the weight of your belongings, and the distance of the move. Most national moving companies charged based on weight or distance, while local companies tend to charge by the hour.
Rates vary from one region of the country to another. Generally, you can expect to spend $1,000 to $3,000 for a full-service move across town and $4,000 to $8,000 for a full-service move across the country.
No hassle - Simply put, hiring a professional moving company is convenient. It takes the effort out of moving. Imagine not having to take on the stress of packing up the entire house and then lugging heavy furniture and boxes.
Professional handling - Professional movers are experts in transporting items from one location to another without damaging them. Accidents do happen, but they're rare with reputable companies. Your belongings are less likely to be damaged in the hands of a professional.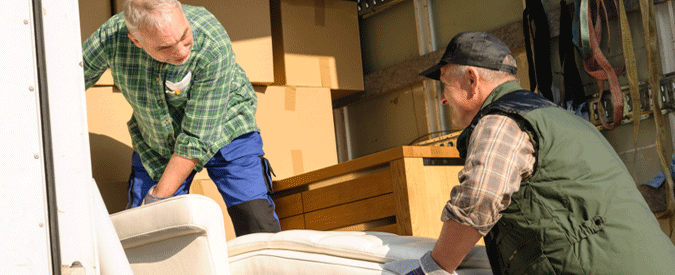 Expensive - Hiring a professional moving company can be expensive. If you're on a tight budget, it may not be feasible.
Most of us cringe when we thinking of the moving process. You spend days or weeks packing up the house, with limited access to all of your belongings. Then there's a day or two of heavy lifting to move everything out of the old place and into the new, only to spend the next several weeks unpacking all of those boxes.
Moving may not be fun, but it is certainly possible as a do-it-yourself task. Ideally, you'll have lots of friends and family members willing to lend a hand.
With a local move, the biggest cost you'll incur is renting a moving truck for a few hundred dollars. If you're moving across the country, you might spend $1,000 to $2,000 for the truck rental and gasoline.
Low cost - Again, DIY moving comes at a very low cost. If you're on a tight budget, this might be the best option.
Control over your items - With DIY moving, you decide exactly how to pack and organize your belongings. You can make sure each item is handled with care to minimize damage.
Hard labor - Moving is exhausting, backbreaking work. There is heavy furniture to carry. There are big boxes to lug. The process is draining.
Time consuming - The moving process is far from quick and easy. Plan on spending at least a couple days moving furniture and boxes. And that doesn't count the time you'll spend packing up an entire house full of belongings.