Last Updated: April 27, 2023
Compare Pros & Cons of EMR Software
KompareIt.com message: Let us do the work for you. Answer a few short questions & get cost estimates for your needs from trusted EMR companies who service your area. Our service is 100% free!
Healthcare organizations and medical offices are increasingly going paperless by transitioning to electronic medical records. Simply put, electronic medical records (EMR) are computerized records that track all of the information about a particular patient. Information about each patient is tracked over time, and it can be shared among all of the providers who care for the patient.
In order to adopt electronic medical records, health care practices and organizations need to purchase EMR software. Often, that software is integrated with other software, including medical billing software and practice management software, to create a complete digital snapshot of everything from the patient's health history to his or her payment history. That way, all of the records remain in one place.
There are two basic types of EMR software: web-based and on-premise. The two have very different pricing structures.
Web-based EMR software, also known as software as a service or cloud-based software, is available by subscription for a monthly fee of about $200 to $1,000 per physician. The software is hosted and maintained on the software company's servers, not your own. Simply log in via the web and you're ready to go.
On-premise or in-house software is installed on your organization's computers and resides on your local server. You have more control of the system, but you are also responsible for system maintenance. Expect to pay an upfront fee of about $2,000 to $5,000 per doctor with no recurring monthly fees. In some cases, training, setup and installation cost extra.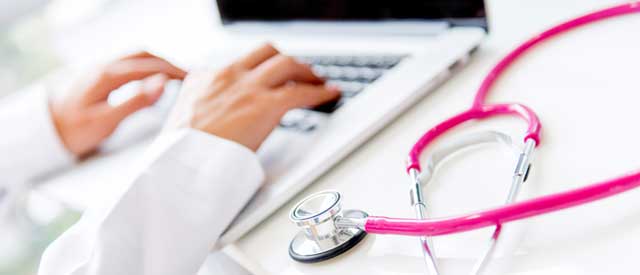 Compare EMR System Prices
Fill out our 30 second free form to receive competitive pricing from pre-screened EMR companies. No commitments. Our service is always free!
Better patient care - Electronic medical records allow doctors across many practices and locations to share patient records, leading to better patient care. For example, a doctor is more likely to discover that an unconscious ER patient has an allergy to certain medications. Better communication and collaboration between health care professionals leads to better diagnosis and treatment.
Greater efficiency - Electronic medical records make doctor's offices and healthcare organizations more efficient. Employees spend less time searching for lost records, calling other offices to retrieve patient information, or trying to make sense of sloppy, handwritten records. This frees up time to focus on more important things like improving patient care.
Better bottom line - Increased efficiencies translate to a better bottom line. You'll be able to see more patients each day, thanks to better workflow and increased productivity.
Fewer lost records - There's a lot to be said for eliminating human error. When records are computerized, they're far less likely to get lost. They don't end up in the wrong file or accidentally wind up in the trash can. Even if the building is destroyed by fire or natural disaster, the records are retrievable.
Space saving - Gone are the days when you'll have to keep a huge room full of filing cabinets. Use all of that extra space to create additional exam rooms or staff offices.
Privacy concerns - Some doctors and patients worry that digital records compromise a patient's confidentiality. There's an increased chance of the records making it into the wrong hands. However, keep in mind that federal HIPAA laws protect patient privacy and impose strict penalties for breaches and violations.
Upfront time and expense - Switching to electronic medical records is time consuming. Your staff will have to be trained to use EMR, and you can expect a bit of a learning curve. Switching to EMR is also expensive, although some of the costs will eventually be recouped.
Distraction - Some physicians feel that using a computer during a patient interaction is distracting, or that it takes away from communication with the patient. Their time with patients just doesn't feel as personal.
Compare EMR System Prices
Fill out our 30 second free form to receive competitive pricing from pre-screened EMR companies. No commitments. Our service is always free!