Last Updated: April 27, 2023
The Average Cost of Electronic Health Records
KompareIt.com message: Let us do the work for you. Answer a few short questions & get cost estimates for your needs from trusted EMR companies who service your area. Our service is 100% free!
For EMR/EHR software subscriptions, a small solo practice can expect to pay about $250 per month ($3000 per year), but many plans are available for as low as $99 per month ($1188 per year). Training staff to use the software costs an average of $1500. The average solo practice spends $25,000 upfront on hardware costs when implementing an EMR/EHR system. The cost of adopting EMR/EHR software for a medical practice depends largely on the practice size, as well as their hardware needs.
Equipping your practice with an electronic medical record (EMR) or electronic health record (EHR) software system is becoming a necessity for modern medicine. But in order to adopt this technology, providers must make a significant investment. We've provided you with a detailed account of the factors that need to be considered in the software selection process, as well as the various costs required for implementation.
When it comes to EMR/EHR software, the amount you spend will be determined most by the size of your practice. The benchmark of affordability for small practices is less than $500 per month.
Most EMR/EHR vendors offer their software via monthly subscriptions, with many requiring long-term contracts. It's not unusual to find software meant for small practices available for about $99-$400 per month, per provider.
Recent research has found that the average practice spends a little over $1500 on training their staff to use newly adopted EMR/EHR software.
The average upfront cost to implement EMR/EHR software use is $26,000 for practices that use a cloud-hosted service, and $33,000 that host their software via on-premise servers.
The average solo practice reports an upfront cost of $25,000 for practice-wide hardware, and just over $7000 for the individual physician. These costs come from the need to acquire a range of devices.
Most modern EMR/EHR softwares are offered with cloud hosting services, so that you do not need to worry about acquiring, maintaining, and powering your own servers. However, if you do need to purchase your own servers to run your system, then there will be significant additional costs.
Business servers typically cost $500-$1000 each, but may easily rise to $3000 or more. You may need to purchase more than one if you have a significant amount of data that will need to be supported. Renting a server can cost $100-$200 per month. Server installation professionals usually charge $100 per hour, and may need 4-5 hours to set up a server ($400-$500). Then, the average cost to power and run a server is about $100 per month ($1200 annually).
In total, the upfront costs of purchasing and setting up a server could be as low as $900 or as high as $3500+.
Compare EMR System Prices
Fill out our 30 second free form to receive competitive pricing from pre-screened EMR companies. No commitments. Our service is always free!
If you still need to set up wireless internet in your office, you will need to buy a router ($75-$400). Professional set up can cost $50-$150 per hour. It typically costs $60-$400 per month for internet service.
Finally, you will need computers, and possibly mobile tablets to run and use your EMR/EHR software. The cost of business computer systems can be $400-$3500 each, or $1950 on average. Tablets cost anywhere from $200-$1200.
Setting up a small practice with 5 computers, 2 tablets, a server, and a router, would cost almost $13,690 upfront.
Compare EMR System Prices
Fill out our 30 second free form to receive competitive pricing from pre-screened EMR companies. No commitments. Our service is always free!
NueMD is a cloud-based EHR and medical billing software that is a good choice for small to mid-sized providers who need to prioritize affordability. It is ONC-ATCB certified and HIPAA-compliant. The program allows for appointment scheduling, e-perscribing, e-labs, and processing of an unlimited number of claims. A mobile app is avialable for use on iOS and Android devices.
There is no free trial or free version of NueMD, but they do offer a free and personalized live demo.
Those who sign up for a demo receive a $25 Amazon gift card.
Plans start at $99 per month, per user.
24/7 support from live representatives is available to subscribers.
Practice Fusion is ranked by SK&A as America's leading cloud-based ambulatory EHR platform. It is HIPAA-compliant and ONC-ATCB certified. The software has an innovative "smart charting" feature that adapts to your typical workflow. Data entry is streamlined with custom shortcuts, frequent order lists, and templates. The program includes billing, but is also compatible with third-party billing software. It is made with a focus on small and independent providers.
Practice Fusion offers a free trial.
Patient portals are included for free.
Subscriptions are $149 per month, per provider, and are bound to annual contracts.
Each provider license includes 3 licenses for Signing Staff (users who sign charts and other documents).
All non-signing staff can be added as users for free.
Praxis EMR is a cloud-based EMR/EHR software that is highly ranked in terms of both user recommendations and usability. The program offers telemedicine capabilities, an adapting AI-based system, and a completely custom structure. The software does not use templates, as it contends that template-free charting, etc. is faster and less prone to error. Praxis reports that its providers experience revenue increases of 30% to 40% from daily use. It is ONC-ATCB certified and HIPAA-compliant. The program is made with small to mid-sized practices in mind.
A free video demo is available.
Praxis offers "Start Up" plans that permit lower payments for the first 3, 6, or 12 months of your contract.
Credentialing setup for e-billing and e-claims is included for free.
Personalized training for your full staff comes free with your plan.
Praxis plans start at $219 per month.
Managing patient records digitally is the new standard for medical practices. If you have yet to adopt digital practice and record management, or are planning to start a new practice, implementing an EMR/EHR system can result in major benefits for your office and your patients.
1. EMR/EHR Software can Enhance Patient Care
Using software to digitally track and manage patient medical history has helped many practices more effectively treat their patients.
74% of providers who adopted EMR/EHR software reported that it improved their patient care
30% of practices said that using the software enabled them to order fewer tests, thanks to availability of lab results
43% of doctors reported instances in which their software alerted them to potential medical errors
3-13% more effective treatment levels of diabetes, breast cancer, colorectal cancer, and chlamydia were achieved by providers who used EMR/EHR software
45% of time is saved by nurses when they use EMR/EHR programs instead of traditional paperwork, allowing them to redirect it to patient care
2. EMR/EHR Software can Bring Big Financial Benefits
Rolling out an EMR/EHR system within your practice can result in significant cost savings, as well as helpful incentive payments from the government.
$142 billion can be saved over 15 years by outpatient facilities that adopt EMR/EHR software
$371 billion can be saved by outpatient facilities
$44,000-$63,750 in federal incentive payments are available to physicians who adopt EHRs (and have at least 30% Medicare or Medicaid patients)
3. Security
Strong security is perhaps one of the most important features an EMR/EHR program can offer. The Health Insurance Portability and Accountability Act (HIPAA) requires providers to meet strict standards for keeping patient information private and secure. Practices that use EMR/EHR software with insufficient security measures can face significant fines and penalties for HIPAA violations.
Even accidental violations, in which the provider didn't realize there was a security issue, can result in fines of $100-$50,000 per instance, up to $1.5 million. Violations in which HIPAA rules that the provider knew or should have known about the problem can incur fines of $1000-$50,000 per instance. These steep penalties make it a financial necessity for providers to verify that their chosen EMR/EHR software is 100% HIPAA compliant.
But security isn't just a legal matter. Privacy is a big concern for patients, too. As many as 9% of people report withholding information about their health because they are worried that their medical records may not be entirely safe from prying eyes.
If you want your patients to feel comfortable sharing everything with you, then you need to be able to offer them peace of mind in the form of tight digital security.
Compare EMR System Prices
Fill out our 30 second free form to receive competitive pricing from pre-screened EMR companies. No commitments. Our service is always free!
4. ONC-ATCB Certification
The Office of the National Coordinator - Authorized Testing and Certification Body (ONC-ATCB) certification is given to American EHR software vendors whose programs meet certain functionality and compliance criteria. They use these criteria to assess whether an EHR program offers sufficient interoperability and allows providers to achieve "meaningful use" - a standard that must be met for federal incentives.
There are 6 individual entities that the ONC has recognized as Authorized Testing and Certification Bodies: Certification Commission for Health IT, The Drummond Group, Inc., InfoGard Laboratories, Inc., SLI Global Solutions, Surescripts LLC, and ICSA Labs.
If you are aiming to receive federal incentive payments for adopting EHR software, it's important to look for vendors who have been certified by one of these authorities.
5. Patient Communication
The majority of patients say that they would like to be able to communicate with their doctors online and receive e-mail reminders about their appointments, but less than half of practices have EMR/EHR software that facilitates this.
Choosing a program that allows for easy, open communication between you and your patients can be the key to providing more effective and satisfying care. You may want to consider how well a software accommodates patient messaging and record accessibility when you make your selection.
6. Vendor Support
Even the best-made software can have problems at times. If you end up having technical issues with your EMR/EHR program, you will need a vendor who can respond and resolve the problem before it causes too much disruption for your practice. Softwareadvice.com recommends favoring vendors who offer multiple customer support options, such as phone, live chat, e-mail, and online tickets.
Choosing the right EMR/EHR vendor requires paying careful attention to the software's ability to match your practice's workflow, and in many cases, the ability of the software to comply with federal reimbursement and security guidelines.
1. The Difference Between EMR and EHR Software
While it may not seem like there is much difference between EMR and EHR softwares, it's important to understand that each is suitable for different types of practices and applications. Some software companies will use the terms interchangeably, so you will need to pay attention to the scope and features of the program to make sure it is appropriate for your needs.
EMR software is typically used only for a single office. This type of program manages the practice's electronic medical records for each individual patient they care for. This software helps staff at a single practice maintain a detailed account of their patients' conditions and manage treatment plans. EMR programs do not easily accommodate sharing records with other providers.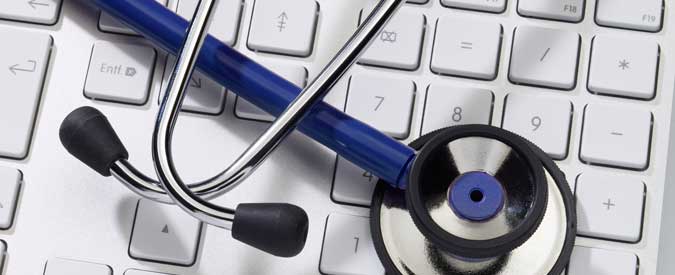 EHR software is what's normally used for managing patient records across multiple provider locations. It manages complete healthcare records of patients, and enables them to be easily shared with other providers.
EHR programs have more features than EMR programs. They allow records to include lab and imaging results, as well as demographic information. Additionally, EHR programs are made to comply with federal regulations that must be met in order to receive Medicare and Medicaid reimbursements. This makes them the necessary choice for practices that need to meet the requirements of the Medicare Access and CHIP Reauthorization Act of 2015 (MACRA).
Compare EMR System Prices
Fill out our 30 second free form to receive competitive pricing from pre-screened EMR companies. No commitments. Our service is always free!