Last Updated: April 27, 2023
How Much Does AthenaHealth EMR/EHR Software Cost?
KompareIt.com message: Let us do the work for you. Answer a few short questions & get cost estimates for your needs from trusted EMR companies who service your area. Our service is 100% free!
AthenaHealth's EHR software license starts at $140 per provider, per month. This means that a practice of 5 physicians would pay $700 per month, minimum ($8400 annually). Paying to migrate up to 1000 patient records and hold 2 sessions of staff training would add $1000 to starting costs, for a total of at least $9400 in the first year.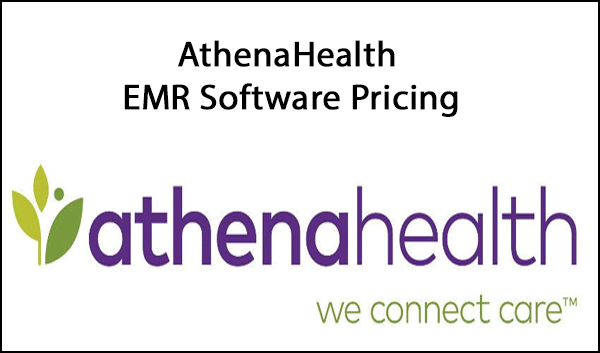 Setting up your practice with an Electronic Health Record software can be an essential part of establishing your operations. However, it can cost a large amount of money, and your choice of provider can greatly influence that cost. This quick overview gives you all the details on costs associated with choosing the AthenaHealth EHR software brand, and also helps you determine if it's really the best fit for your practice.
As with most EHR softwares, the total price will depend on just how large and busy your practice is. The expense of adopting AthenaHealth can grow significantly if you need additional services to get it up and running, such as migration of your existing patient files or training for your staff.
A free 30-minute demo is provided before quoting
The price of a basic license starts at $140 per month, per user
Athenahealth charges 4-7% of total practice revenue for billing services
Their order transmission services cost $150 per month and $1.00-$0.45 per order, depending on the package chosen
Cost of data migration typicall falls between $500 and $10,000. Migration of over 1 million records costs $25,000
Custom integration with multiple systems can cost $2500 to $25,000
Training can cost $500 to $5000 depending on the number of sessions
AthenaHealth promises zero hidden fees, a significant point since many EHR softwares do tack on additional charges that aren't disclosed upfront
For a practice of 5 physicians, using AthenaHealth could cost at least $700 per month, minimum ($8400 annually). Migrating up to 1000 patient records and providing a couple of sessions of staff training would increase start up costs by $1000. This would bring the total to $9400 minimum in the first year.
Today, it's highly uncommon for medical practices to operate without having a digital system for managing their patients' health records. Not only can having an EHR system be required for cooperating with other providers and insurers, it can also improve patient treatment and make your practice eligible for significant financial perks.
AthenaHealth is a common choice for providers, because it consistently ranks as one of the best EHR softwares on the market. The software has helped secure impressive results for a variety of small and large healthcare organizations. There are multiple case studies available to give you further insight into the software's effectiveness.
Resolution 94% of claims on first submission (25% higher than the industry average)
Same-day closing of 74% of patient cases
10 hours of work per provider, per week
69% more Medicare annual industry visits than industry average
Connection with 160,000+ other providers through a single national network
The federal government provides $44,000-$63,750 in incentive payments to practices that adopt EHRs (with a minimum of 30% Medicare or Medicaid patients).
Compare EMR System Prices
Fill out our 30 second free form to receive competitive pricing from pre-screened EMR companies. No commitments. Our service is always free!
Choosing the right EMR/EHR vendor requires paying careful attention to the software's ability to match your practice's workflow, and in many cases, the ability of the software to comply with federal reimbursement and security guidelines.
1. Practice Size
AthenaHealth's framework is designed with larger, multi-physician practices in mind. User reviews report more friction for small to mid-sized providers. Smaller practices may find that AthenaClinicals is more suitable for their business, as this software is designed for more modest organizations. That being said, plenty of solo practices and other small clinics do still use AthenaHealth with success.
2. Hosting Needs
AthenaHealth is a purely cloud-based EHR solution. This can save you a significant amount of money on private hosting servers ($500-$1000+) and server maintenance ($100 per month).
3. Performance Reports
Many users of AthenaHealth have said that the software's reporting feature is one of the most valuable assets to their practices. Reports can be generated for financials, front office operations, billing operations, schedules, patients, communication, clinicals, and more. If you are looking for an EHR that enables on-demand reporting using robust data insights, then AthenaHealth is a great choice.
4. MACRA Compliance
If you treat Medicare and/or Medicaid patients, you will need to use an EHR software that complies with the strict regulations put in place by the Medicare Access and CHIP Reauthorization Act of 2015 (MACRA). AthenaHealth is designed to stay completely up to date and compliant with all MACRA requirements, so it is a safe choice if you need to check off this box. It also helps you ensure that your practice is never unnecessarily playing catch-up on reimbursements.
5. Broad Network Access
Being connected to a larger network of providers makes it easier to collaborate with other providers and ensure that patients are getting appropriate care. AthenaHealth's network spans over 160,000 providers and more than 100 million patients. Their system leverages this connectivity to make clinical recommendations based on patient information already present in the network. If you are looking for an EHR that will help your practice foster better cooperation and prevent patient care gaps, AthenaHealth can be an ideal solution.
6. Patient Engagement
If you need an EHR that can help you maximize communication with your patients and keep them informed, AthenaHealth has the infrastructure to make it happen. Automated appointment reminders, test result alerts, call-in support, and a digital patient portal can help your practice more efficiently manage patient visits and keep them content with their care.
7. Clinical Decision Support
AthenaHealth comes with Epocrates, a physician app that uses extensive data and AI to check medication interactions and disease treatment guidelines. This service can help you make sure that no oversights occur when you write prescriptions or make other decisions for patient care.
Watch an overview of AthenaHealth's EHR system to find out if it's right for your practice.
Compare EMR System Prices
Fill out our 30 second free form to receive competitive pricing from pre-screened EMR companies. No commitments. Our service is always free!