Last Updated: June 13, 2023
Calculating the Cost of Self-Storage Access Control Systems
KompareIt.com message: Let us do the work for you. Answer a few short questions & get cost estimates for your needs from trusted access control companies who service your area. Our service is 100% free!
If you operate a self-storage facility, you have two great reasons to install an access control system to ensure it remains secure. First, of course, is keeping your customers' belongings safe. Frequent break-ins or losses are simply bad for business. If people don't feel secure storing their belongings at your facility, they'll share those fears with the public (online reviews are a double-edged sword). Second is keeping your own property – the storage facility – safe and free from harm. In addition to theft, you must worry about vandalism and even arson.
Common security measures include alarms, video surveillance systems, motion detection, fencing, and, of course, access control.
Pricing varies widely, based on the type of system you choose, the type of gate, the vendor, and any extra features or options you include with your security system.
A single sliding gate costs an average of $8,000 to $10,000. This is the most common choice for self-storage facilities, as they typically lack the ability to monitor multiple access point. They also lack the space or need for more than one sliding gate.
You'll also need a control access panel to operate your gate. These start as low as $200 for a very basic model, with advanced models topping $2,000. A full access control system, including 6-foot sliding gate and keypad, installed, averages around $25,000.
Barrier arm gate systems are less expensive, but not nearly as secure. Ducking under or climbing over one of these is just too easy.
Finally, when talking to your vendor, be sure to ask about maintenance and support. After all, an automatic gate includes a lot of moving parts. Quarterly maintenance packages are fairly common and typically add around $1,000 to the price of your access control system. When comparing vendors, you need to know if a proposal includes maintenance and support or if that's an extra cost.
Watch a demo of the The Nokē™ Smart Entry System by Janus International.
Compare Self-Storage Access Control Prices
Fill out our 30 second free form to receive competitive pricing from pre-screened access control companies. No commitments. Our service is always free!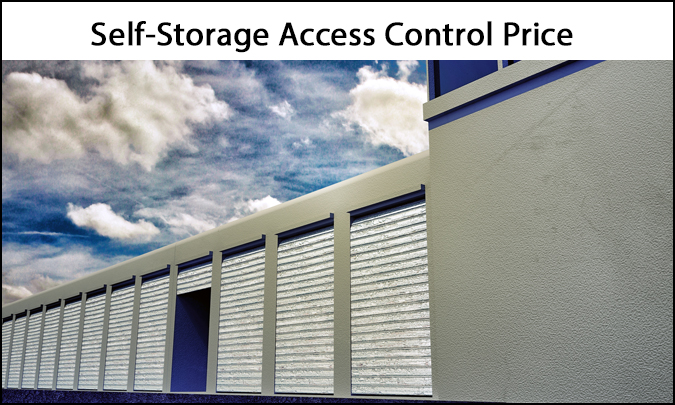 The keypad controls the gate and lets customers enter the facility. At a minimum, it includes the usual keys you find on a telephone keypad (numbers 0 through 9, plus the * and # signs), which allows customers to enter their security code. Access code length varies, as does the number of codes allowed by the package you choose. Preferably, you assign discrete codes to each customer, as this allows you to monitor who entered the facility when. A covered unit protects the keypad against extreme weather (heat, cold, rain, snow, etc.). You may also add an intercom system.
Access control software provides data on who accesses the system, including the access code entered, the tenant's name and unit number, time and date it was accessed, and more. It also allows you to set parameters for each code, such as which hours that user may access a particular area or zone. In addition, the software allows you to quickly and easily delete a user's access, or create a new user.
The gate bars access to non-authorized people. There are various gate types, though slide gates are the most common. You want to install your control pad at least 6 feet from the gate, and allow ample space for the operation of the gate itself, as well as any vehicles passing through. Remember, many customers use moving vans, so providing ample width is important. You may also want to install a walk-through gate within your security fencing, to allow pedestrians easy entry into your facility.
There are four basic types of gate access systems to control access to your storage facility.
Barrier arm gates: This system is similar to the arm you see at a railroad crossing or when you leave a parking garage. It swings up to allow access and down again once the vehicle finishes driving through. Barrier arms are sometimes paired with other gates for greater security.
Slide gates: This is the most common system and it uses a mechanism such as a belt, chain, or hydraulic pump connected to rollers that "slide" the gate open to allow access to the property before sliding closed again.
Swing gates: This system features a motor attached to an arm. The arm attaches to the hinged gate, allowing the gate to open and close as a door does. This is the least common gate access system as it requires a great deal of room.
Vertical lift and fold gates: Also known as VLF, this combines a lift gate with a barrier arm, offering greater protection than a simple swing bar while requiring less space than either a sliding or swing gate.
Resources:
Compare Self-Storage Access Control Prices
Fill out our 30 second free form to receive competitive pricing from pre-screened access control companies. No commitments. Our service is always free!