Last Updated: April 27, 2023
How Much Does Gym Access Control Cost?
KompareIt.com message: Let us do the work for you. Answer a few short questions & get cost estimates for your needs from trusted access control companies who service your area. Our service is 100% free!
Ensuring the safety of your staff and your guests is an integral component to any successful gym. Creating a secure ambiance allows people to work out freely while providing staff with peace of mind. It is bad for business to have an open-door policy that enables anyone to enter and roam the facility at will. Considering the majority of gym visitors are regular members, it is vital to promise privacy and safety.
Restricted areas, for example have to be respected in order to protect documents and important proprietary information. Many gyms have accounting books, payroll, employee files, client memberships and banking information located on-site. Workplace security must be in place for everyone's physical and personal protection.
It is unsafe to allow everyone and anyone to enter your building. Access control systems utilize electronic components at every restricted entry point in order to determine if a person is allowed to pass. Typically, they are most often installed to control who is able to enter or exit exterior doors and when. If example, a gym cleaning service may need access at night to sanitize the gym equipment.
Gyms commonly use these access control systems to secure the exterior doors, pool area and fitness rooms. Access to the bathrooms or change rooms may even be part of the package, along with underground parking.
Card reader systems function as one of the most commonly used door access control systems. Popular gym security systems utilize a key fob or ID card by relying on a RFID or Radio Frequency Identification. Alternatively, you can choose a method that scans employee/client badges or relies on a keypad system.
Compare Gym Access Control Prices
Fill out our 30 second free form to receive competitive pricing from pre-screened access control companies. No commitments. Our service is always free!
You will need have the following information in order to receive an accurate quote:
How many exterior doors will be on the system?
How many staff require access?
How many gym members need access?
What is the square footage of your facility?
Determining if all cards or fobs have the same level of access is another consideration to make. For example, some gyms offer 24 hour access to everyone, while others include it only with specific memberships. Some employees have access to the main office while others typically remain at the counter or work as trainers on the floor.
If you are in the market for a superior quality system that can handle 150 or fewer people, prepare to pay approximately $1500 to $2500 per door. Expect to increase that figure upwards of $2500 to $3500 for a card access service that covers 2-3 entry doors and services 150+ people.
Larger gyms that have 300+ members and staff can anticipate initial set up costs to run from $10,000 to $15,000. Prices include professional installation fees, software, door hardware and key cards.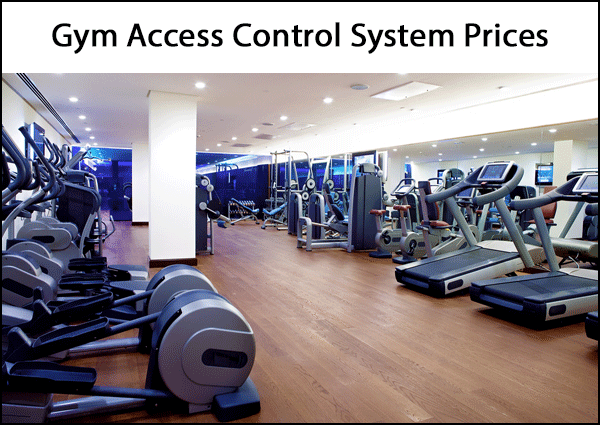 There is a wide range of prices when it comes to monthly maintenance fees. Each company offers their own products and services. Some card access companies do not charge anything for making the access cards but instead include the cost of keycards and replacement keycards within maintenance fees. It is vital that the buyer does their homework and research in order to determine the cost of the service on a per user basis.
Crunching numbers should not be the only deciding factor when choosing your gym access control system. Additionally take into consideration convenience, customer support, and ease of use when making your choice. Try our free request for quote form below and find an access control solution that suits your business and budget today!
Compare Gym Access Control Prices
Fill out our 30 second free form to receive competitive pricing from pre-screened access control companies. No commitments. Our service is always free!