Last Updated: April 26, 2023
How Much Does a Restaurant POS System Cost?
KompareIt.com message: Let us do the work for you. Answer a few short questions & get cost estimates for your needs from trusted POS system dealers who service your area. Our service is 100% free!
No two restaurants are alike. Off-the-shelf, cookie-cutter POS systems provide a basic means of tallying orders, but they don't take into account the unique needs of your establishment.
The best POS system for your restaurant, whether it's a deli, cafe, neighborhood pub or fine dining, is one designed to meet your needs. A Mexican restaurant might need multilingual software, while a pub might need advanced software capable of tracking liquor sales. Fine dining establishments need computerized reservation systems, and delis and cafeterias need food scales.
An experienced and reputable POS system reseller will set you up with exactly what you need, all within your budget.
A point of sale (POS) system is essentially the modern version of a cash register. At a minimum, a POS system is a fixed station consisting of computer hardware, software, payment processing equipment and receipt printer. Servers and bartenders use these stations to enter orders, print tabs and swipe credit cards. Advanced systems can be sold with mobile POS systems - servers can ring in an order right from the table.
But the benefits go far beyond simply ringing in orders and tallying customer tabs. POS software allows restaurant owners and managers to track and analyze all sorts of data that can be used to make better business decisions.
Others perks include:
Faster transactions - Get your customers in and out of the door faster. A customer will never have to wait for a check to by tallied by hand. Increase turnover and increase your bottom line.
Less shrinkage - If an employee doesn't enter an order into the POS system, the kitchen won't make it. It's that simple. POS systems reduce theft and make it nearly impossible for employees to give away free meals.
Inventory management - POS software can produce detailed reports on which menu items are selling and which are not, and which are profitable or not. Use this information to make better purchasing decisions.
Marketing data - Collect information about customer habits and preferences to put together targeted marketing. Send regular customers a 10 percent off coupon, or entice occasional customers to come back by offering a free appetizer.
Compare Restaurant POS System Pricing
Fill out our 30 second free form to receive competitive pricing from pre-screened POS system dealers. No commitments. Our service is always free!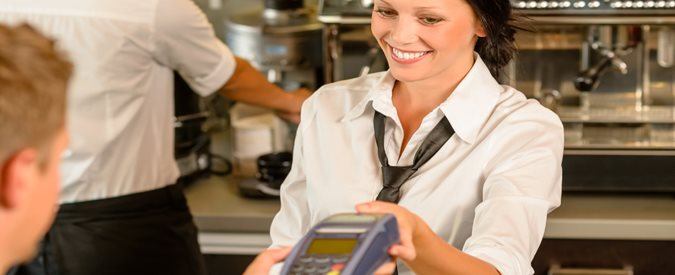 When you're shopping for a POS system, find a dealer who takes the time to really understand your restaurant's needs. Shop around and get quotes from multiple dealers to find that best deal. Don't let a dealer sell you more than you need, but also don't choose on price alone: the cheapest POS system is not usually the best.
POS systems vary widely in price based on the level of technology, and the type and amount of hardware that is purchased.
You can buy a basic system off the shelf for about $1,000, but you'll have to set it up yourself and there will be no tech support. Also, the software that comes with these systems often has limited capabilities.
In most cases, you're looking at spending anywhere from $2,000 to $8,000 on a complete POS system. That includes hardware such as a monitor, keyboard and barcode scanner; software; installation; training; customer support.
For example, budget about $6,000-$7,000 for a basic two-station system, or anywhere from $13,000-$16,000 for a three-terminal system with more advanced features.
Compare Restaurant POS System Pricing
Fill out our 30 second free form to receive competitive pricing from pre-screened POS system dealers. No commitments. Our service is always free!