Last Updated: February 09, 2023
How Much Does Culligan Water Delivery Service Cost?
A single 5 gallon drinking water from Culligan costs $12 delivered. If you order 3 or more 5 gallons the price drops to $7 each. Renting a Culligan water cooler runs an additional $12 per month.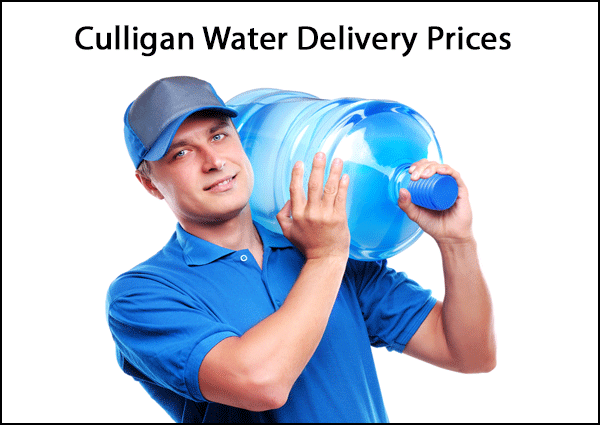 Organizations across the country use a water delivery service to keep their employees hydrated and productive. Proper hydration improves cognitive function and boosts energy. It's a simple little perk, but one that goes a long way toward improving your employees' working environment and morale, and comes with a relatively low price tag.
Culligan's water delivery service differs from the competition in a couple of significant ways. First, they don't make bottled water. Although you can order bottled water, Culligan's specialty is water treatment solutions, mainly filtration and reverse osmosis. You can rent or buy your equipment, which is serviced by Culligan (your "Culligan Man") throughout the term of your subscription.
Culligan's bottled water options include spring, demineralized, purified, and distilled. However, if you're looking for a particular brand of water, you need to look at another delivery service, as Culligan does not let customers choose their brand. Instead, you work with your Culligan Man, who is a local expert on water quality in your area. He or she recommends the best water solution for your organization, helps you determine your ideal delivery schedule, and performs the actual delivery of your water.
You may also choose one of Culligan's water treatment solutions – filtered water or reverse osmosis. Again, your Culligan Man helps you decide which is the better option for your needs. Whether you choose bottled or treated water, your Culligan Man also handles servicing your equipment, such as sanitizing your water cooler during each delivery.
During your initial meeting with your Culligan Man, you arrive at your preferred delivery schedule. You can make arrangements to increase deliveries if you know your needs will increase in a particular month. In addition, you can suspend service, such as during holidays and vacations. If your needs change due to increasing or decreasing staffing, you can also make changes to your delivery schedule.
Whether you choose Culligan's bottled or filtered water service, you need the proper equipment, and the company gives you the option to lease or buy, whichever better suits your needs. Please note that, even if you already have a water cooler or dispenser, you still need to get Culligan's equipment. Throughout the lifetime of your subscription, servicing your water dispenser is part of your subscription fee. Regular maintenance includes sanitizing the machine and replacing filters.
Culligan's business model is highly customer-focused; they're looking to nurture a relationship with you. It's one of the few delivery services that require a personal meeting between you and the company's representative. For some businesses, this level of personal commitment is Culligan's main selling point. Others find it inconvenient.
Compare Water Delivery Service Rates
Fill out our 30 second free form to receive competitive pricing from pre-screened water delivery companies. No commitments. Our service is always free!
With Culligan, you pay a monthly subscription fee for either water delivery or water filtration. This fee covers both the monthly rental fee for the equipment and that equipment's installation, plus three months' worth of bottled water. Costs, of course, depend on the type and amount of water you choose.
A 5-gallon bottle of either purified or spring water costs around $7
A 5-gallon bottle of either distilled or fluoridated water costs around $8
The amount of water you need varies according to the number of people in your organization. For every 10 employees, you can expect to go through around seven 5-gallon bottles of water each month. For purified and spring water, that puts your average water cost at around $49 per month for every 10 employees. If you choose distilled or fluoridated, you're looking at around $56 per month. Double those prices for 20 employees, triple them for 30, etc.
Culligan also offers individual-sized water bottles, available in cases of 24. Pricing here ranges between $9 and $24 per case, depending on the size of the bottles and type of water.
Not every Culligan delivery service offers the same options. If you have a particular type of bottled water you want, make sure your Culligan Man can provide it before you sign anything.
Even in offices with no water line, Culligan can provide filtered water instead of bottled. Not only is a water treatment system more eco-friendly than bottled water, it ensures you never run out of fresh, clean drinking water. It's a popular choice for organizations with limited storage space for their bottled water. Bonus, it's also less expensive than bottled water. Your Culligan Man services your filtration equipment, including sanitization and changing your filters multiple times per year.
Compare Water Delivery Service Rates
Fill out our 30 second free form to receive competitive pricing from pre-screened water delivery companies. No commitments. Our service is always free!