Last Updated: March 10, 2023
How Much Does an ESI Business Phone System Cost?
KompareIt.com message: Let us do the work for you. Answer a few short questions & get cost estimates for your needs from trusted VoIP phone services companies who service your area. Our service is 100% free!
In today's world, businesses cannot function without a reliable phone system connecting them to clients, partners, and each other. The best systems are easy to use and include robust features that support increased collaboration and today's increasingly mobile workforce. ESI business phone systems offer both cloud and hybrid solutions, as well as locally-hosted systems, all featuring intuitive controls and world-class tech support.
Watch this video to learn more about Estech Systems, Inc. (ESI), the business phone systems manufacturer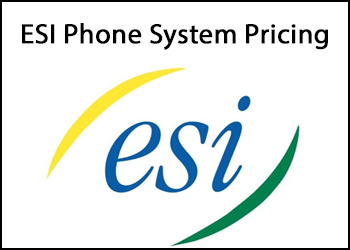 Estech Systems, Inc. (commonly known as ESI) has been providing phone systems to small and mid-sized businesses since 1987. Their services are designed to increase productivity and collaboration between employees, partners, and customers. ESI's systems are also flexible so they easily grow as your business needs change, making upgrades simple and inexpensive.
Compare Phone System & Service Rates
Fill out our 30 second free form to receive competitive pricing from pre-screened phone system & service companies. No commitments. Our service is always free!
ESI offers cloud-based systems as well as on-premise and hybrid systems. Their hybrid solutions incorporate cloud technology with onsite system management.
Take your business phone system to the cloud with ESI Cloud PBX, which offers a seamless experience from desk phone to desktop to mobile. This easy-to-use system features an intuitive dashboard for detailed call analytics, drag and drop programming, and the ability to manage user profiles with the click of a mouse. You can customize your package with only the features you want and need, and the cost of your phone is included in the monthly service price. Key features include:
Automated help
Click-to-call
Mobile app
Presence management
Secure chat
Simple phone programming
Support for multiple devices
Visual contact directory
Visual voicemail
Web-based administration
If you still aren't sure your business is ready for the move to the cloud, this hybrid solution lets you take advantage of the best cloud features while still hosting your system locally. Advanced features, such as intelligent caller ID and multi-site support, help you increase productivity and reduce your overall telephone costs. System management is simple, with integrated administration and cloud technology that allows employees to stay connected with the home office, even when they're working remotely. The system is also scalable, allowing to you to transition to a full cloud system if you decide to make the switch. Key features include:
Audio conferencing
Call management
Peak capacity management
Unlimited calling
ESI offers a variety of phones and servers, reliable hardware for businesses that prefer to self-host their phone system. With ESI on-premises systems, you get intelligent caller ID, extensive voicemail capabilities, one-touch recording, multi-device management, and a flexible architecture that supports both digital and IP communications. Implementing SIP trunking offers substantial savings, and ESI offers unlimited long distance calling throughout North America, including Mexico and Canada.
Pricing on cloud systems varies widely, depending on the number of features you choose and the number of users you have.
ESI Cloud services start at around $30 to $50 per month, per user, for up to nine users. Pricing depends on the features and minutes you choose. If you have ten or more users, expect to pay between $20 and $40 per month, per user. There are no installation costs and plans allow you to determine features by extension.
You may also choose a metered plan, which typically costs around half the price of the unlimited plans and includes around 250 minutes for outbound calls (plans differ). Additional minutes cost around $0.03 per minute.
ESI also offers communication server phone systems for on-premise hosting.
ESI 50L: Averages around $750 and includes 40 total stations (32 digital and eight analog).
ESI 50: Averages around $1,250 and includes 52 total stations (12 IP, 32 digital, eight analog) and 35 central office lines.
ESI 100: Averages around $1,750 and includes 148 total stations (72 IP, 48 digital, 28 analog) and 42 central office lines.
ESI 200: Averages around $2,500 and includes 416 total stations (192 IP, 168 digital, 56 analog) and 84 central office lines.
ESI 600: Averages around $3,500 and includes 932 total stations (408 IP, 336 digital, 188 analog) and 168 central office lines.
ESI 100: Averages around $4,000 and includes1,704 total stations (816 IP, 504 digital, 384 analog) and 240 central office lines.
These prices cover the base cabinets. Additional components, such as phones, adaptors, port cards, and the phone service itself, cost extra.
ESI also offers digital phones.
12-key phones average around $125
24-key phones average around $150
48-key phones average around $200
Sources:
Compare Phone System & Service Rates
Fill out our 30 second free form to receive competitive pricing from pre-screened phone system & service companies. No commitments. Our service is always free!