Last Updated: February 09, 2023
Average Costs & Benefits of Installing Grocery Store Self-Checkout Kiosks
KompareIt.com message: Let us do the work for you. Answer a few short questions & get cost estimates for your needs from trusted kiosk/POS companies who service your area. Our service is 100% free!
The cost to install grocery store self-checkout kiosks varies according to number of units and brand. A new self-check kiosk averages around $30,000. You'll save around 30 to 40 percent with a used kiosk. A four-lane setup averages around $125,000. Expect to pay less than $100,000 for IBM and up to $150,000 for Fujitsu.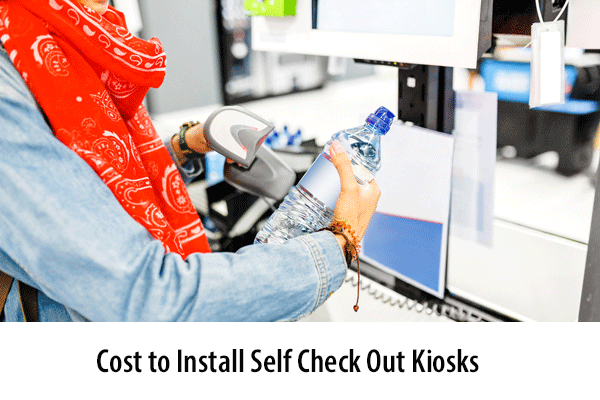 Self-checkout kiosks have become common in grocery stores around the country. Also known as semi-attended customer-activated terminals (SACAT) and self-service checkout, these units allow customers to scan and pay for their items; no cashier required.
In addition to scanning barcodes, the scanner reads loyalty cards, coupons, and more. Self-checkout kiosks typically include a scale for weighing bulk items. They also use a keypad or touchscreen (or both) to enter produce information or other items without a barcode.
The kiosk also includes a bagging area that gauges the weight of bagged items to ensure they match what was scanned.
Finally, the unit includes a way to pay for goods, including card reader, banknote scanner, and coin slot.
As stated, costs vary according to how many self-check kiosks you install and the manufacturer you choose. You may also pay extra for customization and branding.
A single grocery store self-checkout kiosk averages around $30,000
A bank of four kiosks costs around $125,000 on average
IBM charges between $75,000 and $100,000 for a 4-unit self-check system
Fujitsu charges between $125,000 and $150,000 for a 4-unit kiosk system
Expect your self-checkout kiosk to last around 5 years. Newer systems with the latest technology last longer.
Compare Grocery Store Self-Checkout Kiosk/POS Prices
Fill out our 30 second free form to receive competitive pricing from pre-screened kiosk point of sale dealers. No commitments. Our service is always free!
The cost to install a grocery store self-checkout kiosk is significantly higher than installing a standard POS system. Many stores find the cost worth it, though, due to the numerous benefits.
Shorter lines: Self-service typically allows stores to process more customers in less time, creating shorter lines. This leads to increased purchases and increased customer satisfaction.
Satisfied customers: A significant number of customers prefer not dealing with cashiers and the accompanying smalltalk. They'd rather talk on their phones or listen to music or an audiobook. In addition, if English is not their first language, they may appreciate the language options available on most kiosks.
Better use of human resources: With self-check kiosks, there's less worry about cashiers calling out sick or taking personal leave. And self-service also allows you to assign cashiers tasks that require the human touch, such as stocking and organizing inventory or responding to customer questions and complaints.
Reduce labor costs: Instead of overstaffing to cover busy windows, you only need enough cashiers to handle the standard level of business. And instead of one employee per lane, a single employee can monitor an entire self-serve bank.
Self-serve grocery store kiosks aren't adopted by every brand. Some stores feel the technology doesn't match their image so they forego it completely. Others add one or two kiosks instead of an entire bank to give customers the option. Still others embrace kiosks wholeheartedly, installing a dozen or more.
Some grocery stores install other types of kiosks. For example, bill payment kiosks are probably the most common. These systems allow your customers to complete additional errands – namely, pay their utility bills – while grocery shopping. This type of convenience can be invaluable.
Most experts recommend repurposing cashiers displaced by kiosks by giving them tasks more complicated than scanning items and accepting payment. This can help improve profitability and increase revenues.
References:
Compare Grocery Store Self-Checkout Kiosk/POS Prices
Fill out our 30 second free form to receive competitive pricing from pre-screened kiosk point of sale dealers. No commitments. Our service is always free!