Last Updated: April 27, 2023
Medical/Dental Air Compressors Buying Guide: Costs, Uses, and Sizing
KompareIt.com message: Let us do the work for you. Answer a few short questions & get cost estimates for your needs from trusted forklift dealers who service your area. Our service is 100% free!
A compressor that will be used for medical or dental tools will cost as little as $800 or as high as $2,200 depending on the psi, Horsepower and CFM required. You can save up to 25% by purchasing a used air compressor.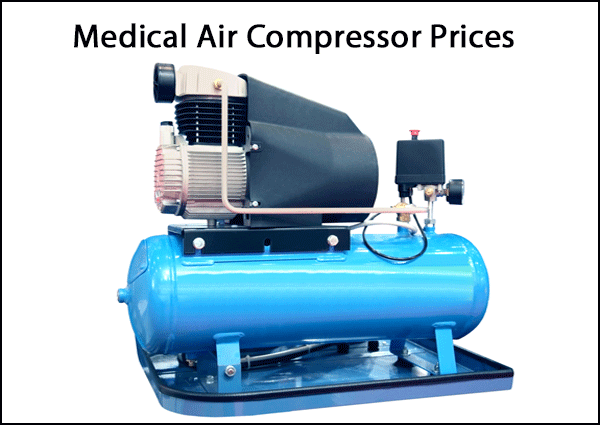 Any air power tool needs an air compressor to ensure proper operation. If you aren't an engineer, though, you may feel overwhelmed by the technical jargon used to identify an air compressor, such as tank capacity, air pressure ratings, and horsepower.
Read on to discover what to look for in a medical or dental air compressor, how to decipher capacity and pressure ratings, and what you should expect to spend.
Medical and dental offices require electric-powered air compressors to ensure patients aren't inhaling noxious fumes or overwhelmed by a noisy motor.
Choose an oil-free unit, which is low maintenance and protects the unit from developing excess moisture in either the air hose or your tools. In addition to its easy maintenance, oil-free units do not contaminate the air, which happens over time with an oil-lubricated compressor (especially if you don't properly maintain it). The oil vapor negatively impacts your patients' health as well as your equipment.
Of course, even an oil-free unit requires some routine maintenance, such as filter replacement.
When it comes to choosing an air compressor, you want a unit that handles your needs, but you don't need to buy more power than your equipment requires.
Air compressors come with a CFM rating, which stands for cubic feet per minute. Air tools also have a CFM rating. When choosing your compressor, multiply your most powerful tool's CFM by 1.5 to arrive at the CFM rating you require in an air compressor. Are you running more than one tool from a single air compressor? Add the CFM of each, then multiply the total by 1.5.
Next, look for a machine with a psi between 125 and 150. Finally, a tank capacity of 30 gallons should handle your needs.
Compare Medical/Dental Air Compressor Pricing
Fill out our 30 second free form to receive competitive pricing from pre-screened air compressor dealers. No commitments. Our service is always free!
Water buildup affects any compressed air system, but especially dental tools. This becomes a problem because, as any medical professional knows, water promotes the growth of bacteria.
Combat water buildup with either an absorption or refrigerated air dryer.
Sometimes called desiccant dryers, absorption compressed dryers lower the dew point down to negative 40 degrees, which drastically reduces humidity within the system and therefore the amount of water in the air. In return, this greatly lowers risk of bacteria.
In contrast, refrigerated compressed air dryers reduce dew point to 2 degrees, not quite low enough for a dental compressor, though still better than nothing.
Prices vary widely depending on a number of factors. However, based on standards for medical and dental air compressors, sample pricing includes:
A portable unit with 135 psi, 3-5 horsepower, and a CFM between 10.3 and 15.5 ranges between $800 and $1,400
A portable unit with 175 psi, 7.5 horsepower, and a CFM of 24 ranges between $1,900 and $2,200
This is probably the highest you need to go for medical or dental air tools, but just in case your needs are greater, here are some higher-end prices:
A portable unit with 175 psi, 10 horsepower, and a CFM of 34 ranges between $2,700 and $5,200
A stationary unit with 80-125 psi, 80 horsepower, and a CFM of 185 ranges between $12,000 and $17,500
A stationary unit with 109-125 psi, 250-500 horsepower, and a CFM between 1466 and 2444 ranges between $35,000 and $90,000
Most units do include a warranty, though coverage varies according to manufacturer and vendor. You may also find warranties protecting specific parts of the machine. These include the drive motor, variable speed drive, air-ends, air/fluid receivers, gaskets and rings, and suction/discharge valves.
Manufacturers may also offer a service level agreement (sometimes called an SLA). These extend beyond the warranty and offer preventive maintenance services. Most manufacturers offer SLAs with either an annual or monthly charge for the service. Coverage typically includes electrical connections, air filters, valves, belt tension, and traps.
A quiet motor typically lasts longer, due to lower vibration, so ask the vendor to demonstrate the unit before purchasing (you should do that anyway). Also, don't forget to make sure your compressor includes items such as a coalescing filter, low voltage control, electrical hookup kit, fresh intake kit, and high-pressure hose. If possible, choose one with a desiccant drying system, which not only reduces water but it also meets National Fire Protection standards thanks to improved air quality.
Finally, make sure the storage tank is ASME-certified, which indicates greater durability.
Compare Medical/Dental Air Compressor Pricing
Fill out our 30 second free form to receive competitive pricing from pre-screened air compressor dealers. No commitments. Our service is always free!