Last Updated: February 08, 2023
How Much Does Employee Time Tracking Software Cost?
KompareIt.com message: Let us do the work for you. Answer a few short questions & get cost estimates for your needs from trusted retirement plan pros who service your area. Our service is 100% free!
Time tracking programs with minimal features can be completely free, but most standard packages with some extra features cost $1.50-$7 per user, per month. A business with 20 employees to track could expect to pay $30-$140 total per month, or $360-$1680 total per year.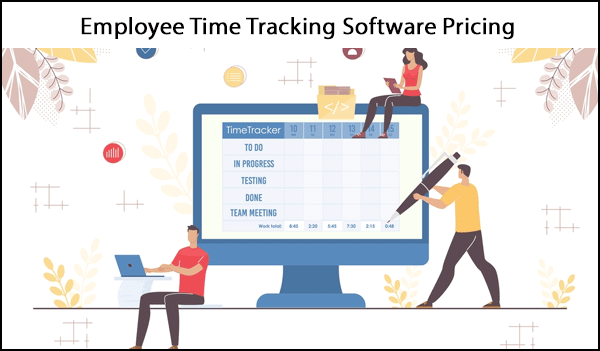 Setting up your business with employee time tracking software may be necessary if your operations require or could be improved by monitoring and keeping an accurate log of how your staff spend time at work. But getting this software can come at various costs, and there is also the matter of choosing a program that meets your specific business needs. Below, we've provided a detailed overview of the prices associated with employee time tracking software, and the other factors you'll need to consider when choosing a program.
Employee time tracking software services are usually offered through monthly or annual subscriptions, and costs are typically based on the number of users. Most standard packages cost $1.50-$7 per user, per month.
Some companies offer discounts for annual subscriptions, which usually amount to 2 months free.
On the off-chance that your workplace doesn't already have internet access, you'll need to set it up so that your software can track time live, and so that your employees can punch in/out. Small businesses can expect to pay $60-$400 per month for internet service. If a router is necessary, it typically costs $75-$400.
Mobile employees will either need to have access to the internet via their own smartphones, or you will need to provide it at the work site via a mobile hotspot ($40-$500). Larger worksites such as construction zones may need more advanced mobile hotspots. An example would be those offered by DeWalt for $1500+.
If you want to use one device as a designated employee time clock for them to punch in/out on, you'll need to purchase that device if you don't own it already. This could be an office computer ($400-$3500), or a digital tablet ($100-$1900).
Installation costs may be non-existent if your chosen program operates on the cloud, or if you or your employees are able to install the software on all devices. But if you do need professional assistance with installation, count on paying $50-$150 per hour to hire IT professionals that can come help you on-site.
Today, there are a variety of tracking services offered for free. These include Clockify and WhenIWork (covered more in depth below). These programs can be suitable for businesses with conservative time tracking needs, as their free packages have limited features.
For example, WhenIWork's free package only accommodates up to 75 users, while Clockify only provides reports and time editing restrictions in their paid packages. Be aware that some other brands advertising free packages will have limits for the total amount of time and/or projects that can be tracked.
Clockify is a highly affordable solution for everyone from individual freelancers to large-scale enterprises. The software can be installed on work devices or run via the cloud, and comes with browser extensions and apps. Individual projects can be added, making it especially useful for agencies or teams that handle client accounts.
Clockify has a 100%, forever-free package for unlimited users.
There is a 1-week free trial available to try the service's Premium features.
Customers who choose annual payments get 2 months free.
The Plus package is $9.99 per month, flat, and includes added features such as reports, time audits, and hiding time from non-administrative users.
Clockify's Premium package is $29.99 per month, flat and offers expanded features.
The Enterprise package is offered at $9.99 per user with a full feature list.
A $12,000 per year (minimum) package is available for businesses that want the program to run on their own servers.
WhenIWork is a cloud-based scheduling program that includes time tracking. It is most suitable for businesses that employ shift workers. It comes with an app that employees can install on their phones to punch in/out, as well as receive alerts and access to schedules. For accounts with 20 users, WhenIWork projects average annual savings of $6358.
The free plan is available for up to 75 users.
Basic packages cost $1.50 per user, per month, with extra scheduling features and locations.
Pro packages are $2.25 per user per month, with extended features.
Entertprise packages with full features have custom pricing.
The time clock attendance add-on can be had for an extra $2 per user, per month.
Applicant tracking & sourcing can be added for $20 per user, per month.
Hubstaff is a flexible, feature-rich program that includes individual employee time-tracking, project tracking, productivity measuring, invoicing, and automated payroll. The program can operate via the cloud or device installation. It can be integrated with Trello, Basecamp, and other workflow/project management applications.
A free package is offered for single-user accounts.
Hubstaff also offers 2 months free for annual payments.
14-day free trials for Basic and Premium plans are available.
Hubstaff's referral program allows you to get 10% off a Premium package for each referral who signs up for a paid plan. This can add up to make your subscription 100% free. The discounts last as long as the referred customer keeps their account or 12 months, whichever is less.
The Basic package is $7 per user, per month (2 user minimum), and includes 1 integration.
Premium packages are priced at $10 per user, per month (2 user minimum).
Enterprise packages are offered at $20 per user, per month (2 user minimum).
Zoho Projects is a program with a special focus on project-based work. While its core function is project management, it includes time tracking of billable and non-billable hours, as well as more specific tracking of what tasks employees are spending their time on. It is best for companies that use a project business model, such as software developers and construction contractors.
The free package is offered with a limit of 3 users, 3 client users, and 2 projects.
A 10-day free trial is available for any of the four paid packages.
Annual payment plans get discounts of 15-20%.
Standard packages are $18 per month, for 6 users and 10 total projects. It is $3 per additional user.
Express packages start at $50 per month for 15 users and unlimited projects, with $4 per additional user.
Premium packages are $100 per month for 20 users, and $5 per additional user.
Enterprise packages cost $150 per month for 25 users. It is $6 per additional user.
Their top Enterprise package for 5000 users is $44,100 per year.
Depending on the way your business operates and how it pays employees, using time tracking software can be an essential, or a nice productivity/profit booster. If your employees are paid in hourly wages, this software can be used to ensure accurate reporting of time worked. These programs are also useful for making sure that employees are spending their time in the most efficient manner.
1. Untracked Time can Result in Major Productivity Losses
A great deal of employee time is lost to tasks that don't directly benefit your business. Between non-work related distractions and employees punching in/out early, a lot of the time you're paying for may not be put into actual work. When employees are truly working, much of their time can be squandered on tasks that just aren't that impactful.
2 hours and 23 minutes per day is the total time that workers are productive
44 minutes per day is spent by employees on social media
40 minutes per day is spent by staff socializing with each other
50% of employees admit to time theft
7% of gross annual payroll is typically lost to staff time theft
2. Time Tracking Software Can Improve Your Bottom Line
Rolling out an effective time tracking system at your workplace can prevent employee time theft and also optimize the way your staff spends their time. This translates into more money saved and earned by your business.
$666,400.00 in yearly wages can be recovered by time tracking
An 80% decrease in productivity leaks is reported after using time tracking
21% more profitability is achieved by companies with high employee engagement
3. Legal Compliance
If your employees are working hours that aren't logged, your business could be in violation of federal labor laws. The Fair Labor Standards Act (FLSA) requires employers to keep accurate logs of staff time and pay, abide by the mandated minimum wage, and pay out appropriate overtime compensation for nonexempt employees that work over 40 hours per week.
A lack of proper tracking puts your business at risk of violating all of these requirements. This can result in penalty fees of $1000-$2000 per violation.
Selecting the right employee time tracking software requires accounting for several important factors relating to how your business operates and the features you'll need.
1. Your Team Size and Composition
Because most program packages are priced based on the number of users, you need to assess how many employees you have, and whether or not all of them will be using the software. Perhaps you have a few full-time, salaried employees who may not need their time tracked, while you also have a team of shift-workers who will need to log their hours.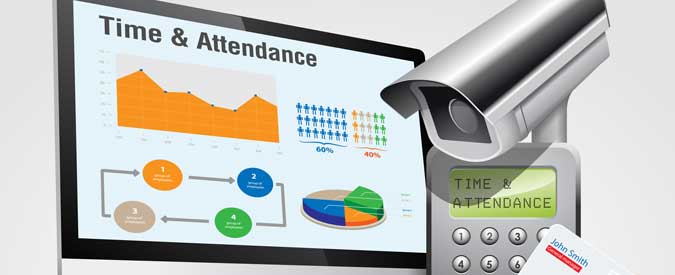 Additionally, you'll need to consider whether or not you have freelance or remote workers who will be using the program. Some brands are designed specifically for managing freelancers and employees who work off-site. On this note, it's also an important factor if there are multiple sites where this software will need to track staff. Do all of these locations have internet access? If employees are mobile, do they have the devices and internet access they need to use the software?
2. Your Payment Model
If your business pays some or all of its workers based on hourly wages, you will likely need to select time tracking software that offers punch in/out functionality. Additionally, you may benefit from picking a program that has built-in payroll, or at least is compatible with the payroll program you already use.
3. Your Business Model
The way your business runs is a key determinant of what the best type of software will be. A program that's designed for tracking shift workers will not be suitable for a business that needs to track how much time employees are devoting to specific projects and their tasks. If your company handles multiple in-house projects or works on projects for clients, then you will need to select a time tracking software that is designed to accommodate project-based work.
4. Optimization Needs
Are you just looking to log your team's billable hours, or do you want careful tracking of how your employees are spending their time? The latter can help your business identify tasks that are taking too much time and spot which ones aren't getting enough attention. This is the first step to solving problems that are creating time bottlenecks, and allow your company to make the changes necessary to develop more productive workflows.
In project-based work, time tracking can also reveal which projects are taking up most of your team's time, and whether or not project progress is acceptable for the amount of employee time devoted.
Compare Employee Time Tracking Software Prices
Fill out our 30 second free form to receive competitive time and attendance software quotes from pre-screened companies. No commitments. Our service is always free!