Last Updated: February 08, 2023
Compare Costs of Starting a Subway vs Quiznos Franchise
KompareIt.com message: Let us do the work for you. Answer a few short questions & get cost estimates for your needs from trusted franchise pros who service your area. Our service is 100% free!
Subway is the largest fast food chain in the world, with nearly 37,000 restaurants in 99 countries as of early 2012. The sandwich chain has grown rapidly as Americans and people across the globe have become more health conscious.
But Subway is more than just a popular alternative to greasy fast food. The relatively low cost to start a Subway franchise has contributed to the growth, making this chain a popular choice for budding entrepreneurs.
Subway Corporation estimates that it costs anywhere from $115,300 to $258,800 to start a Subway restaurant in the United States and operate it for the first three months. The median estimated cost is $187,750. All of those figures include property, equipment, training, advertising, signage and inventory, as well as an initial franchise fee of $15,000.
In addition, Subway charges weekly royalties of 12.5 percent of your gross sales, not including tax. Eight percent of that covers franchise royalty fees while the remaining 4.5 percent covers advertising costs.
Success rate - According to CNNMoney, Subway franchises have a higher success rate than Quiznos. Fewer than 8 percent of Subway loans backed by the U.S. Small Business Administration end up in default.
Brand recognition - Subway's brand is slightly more popular than Quiznos. However, the distinction is slight. Subway was the most popular franchise in the country over the past decade, according to CNNMoney, while Quiznos took the No. 2 spot.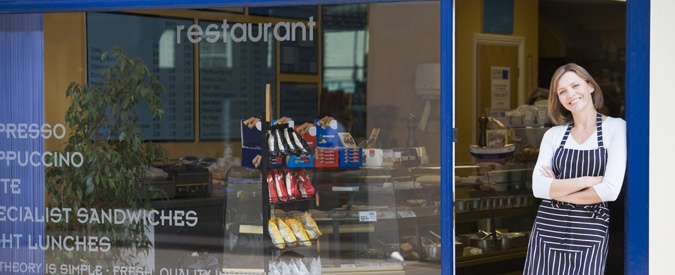 Cost - Subway franchises are typically more expensive to open and operate than Quiznos franchises. The initial franchise fee, operating costs and weekly royalties are higher.
Quiznos is another popular sandwich chain that has become a household name. The company is smaller, with about 3,500 restaurants worldwide, but Quiznos has continued to grow in popularity since its launch in 1981.
Today, you'll find a Quiznos is every state and in locations throughout the world, including Canada and Costa Rica.
According to Quiznos, total startup costs as of early 2012 ranged from $155,546 to $217,527, excluding real estate costs. The price varies based the size of the restaurant and region. Startup costs cover architects, signage, equipment, the initial food order and the franchise fee of $5,000.
Quiznos royalties are 7 to 8 percent of gross sales, after discounts such as coupons. Royalties are paid weekly. Advertising fees are 4 percent of gross sales, after discounts.
Cost - Starting a Quiznos franchise is typically less expensive than starting a Subway franchise. Startup costs, franchise fees and royalties are lower.
Less competition - Because there are fewer Quiznos franchises, you're less likely to face competition from a nearby Quiznos. With Subway, even small cities and towns often have more than one franchise.
Success rate - Quiznos franchises are less likely to succeed. The failure rate is well into the double digits, according to CNNMoney, compared to less than 8 percent with Subway.
Brand recognition - Quiznos doesn't have the same worldwide brand recognition as Subway. However, it is still one of the most popular franchises in the country.
Compare Franchise Start-Up Costs
Fill out our 30 second free form to receive competitive pricing from pre-screened franchise companies. No commitments. Our service is always free!