Last Updated: February 08, 2023
Compare Costs of Starting a Pizza Hut vs Dominos Franchise
KompareIt.com message: Let us do the work for you. Answer a few short questions & get cost estimates for your needs from trusted franchise pros who service your area. Our service is 100% free!
Pizza might as well be the official food of America. More than 90 percent of Americans east pizza once at least once a month, according to Pizza Today Magazine. Pizza is a go-to food for parties, social gatherings and nights when you just don't feel like cooking.
Pizza Hut is one of the most recognized brands in the industry, making it an attractive choice for franchisees. The company has been making pizza for more than 50 years, and it has more than 5,600 restaurants in 94 countries.
Pizza Hut requires franchisees to have some successful retail or restaurant business experience, either as an owner or manager. All franchisees must commit to opening at least two stores and have a growth plan to expand to at least four stores, if opportunities are available.
Pizza Hut estimates that it costs anywhere from $295,000 to $422,000 to open a franchise and operate it for the first three months. That includes the building and building improvements equipment, inventory, advertising and the $25,000 initial franchise fee.
Pizza Hut franchise owners must also pay monthly royalties totaling 6 percent of gross sales and advertising fees of 4.25 percent of gross sales.
Several restaurant options - Pizza Hut offers three different types of restaurants: dine-in, delivery only and delivery/carryout. Choose the style that best meets your needs.
Absentee ownership allowed - Pizza Hut doesn't require owners to be hands on. You can purchase a franchise and hire other people to manage day-to-day operations.
Cost - Pizza Hut franchises are usually more expensive to start than Dominos franchises, primarily because of the two-store requirement. Franchise fees and overhead costs are also higher.
Net worth requirements - You need to have a significant amount of cash in the bank to start a Pizza Hut restaurant. Franchisees are required to have a net worth of at least $700,000 and $350,000 in liquid assets.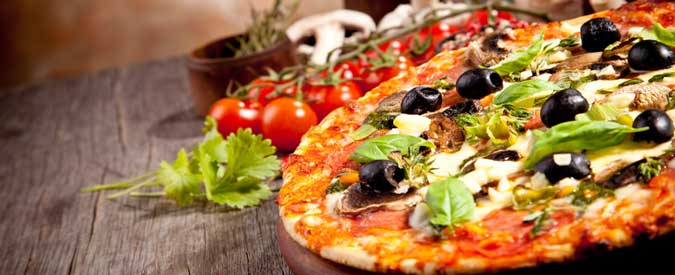 Dominos is another popular franchise for entrepreneurs. There more than 9,000 Dominos stores worldwide - 4,500 of them in the United States. In 2011, Forbes.com ranked Dominos No. 1 on its list of The Top 20 Franchises For The Money.
Dominos does require its franchisees to have some prior business experience. For those without business experience, Dominos offers an operate-to-own program that allows would-be franchisees to work their way through the ranks from employee, to general manager, and, eventually, to owner.
The cost of starting a Dominos franchise ranges from about $120,000 to more than $460,000. But most franchisees will pay in the $200,000 to $300,000 range. That includes the initial franchise fee of $25,000.
Dominos' ongoing royalty fee is 5.5 percent of gross sales.
Cost - Generally, starting a Dominos franchise is less expensive than a starting a Pizza Hut franchise. There's no two-store requirement and royalties are slightly less. Dominos stores tend to have lower overhead costs, too.
Internal franchise opportunities - Dominos' operate-to-own program reduces the entry barrier to franchising. The net worth threshold for employees who move up the ranks is $50,000 - significantly lower than the threshold of other pizza companies. Also, franchise fees are reduced for internal franchisees, who must spend at least one year working as a general manager before transitioning to ownership.
Veterans discount - Dominos offers qualified veterans an 80 percent discount off the franchise fee. The company also offers discounts and benefits to women and minority owners.
No absentee owners - Dominos does not allow franchisees to simply purchase a restaurant and hire other people to run it. The job is hands on. All Dominos franchise owners are owner-operators.
No outside business interests - Dominos restricts franchisees from pursuing outside business interests. You can't form another company or buy into a different franchise.
Compare Franchise Start-Up Costs
Fill out our 30 second free form to receive competitive pricing from pre-screened franchise companies. No commitments. Our service is always free!