Last Updated: April 27, 2023
Compare New vs Used Skid Steer Loader Costs
KompareIt.com message: Let us do the work for you. Answer a few short questions & get cost estimates for your needs from trusted skid steer dealers who service your area. Our service is 100% free!
Skid steer loaders are one of the most popular, versatile pieces of construction equipment. They can be adapted to a variety of uses simply by switching the attachment. In addition to construction, they're used in manufacturing, landscaping, excavation, snow plowing and more.
Most skid steer loaders are four-wheel drive vehicles that can haul and push heavy loads. Skid steer loaders are also known for their maneuverability. The wheels function independently of one another, allowing for hairpin turns in and out of tight areas.
You'll often hear skid steer loaders referred to as a "Bobcats." However, Bobcat is just one of many major manufacturers of skid steer loaders. Technically, the terms are not interchangeable.
New skid steer loaders range in price from about $15,000 to $50,000. A skid steer loader with a 1,350-pound capacity might sell for $17,000 to $20,000, while a 1,600-pound capacity machine might go for $18,000 to $22,000. Skid steer loaders with much greater load capacities - 2,200 pounds or more - usually sell for more than $30,000.
Attachments can quickly escalate the total purchase price. Simple buckets go for about $1,000, while attachments like augers and pallet forks sell for up to $3,000. Complex attachments such as backhoes and hydraulic hammers can cost as much as $10,000 to $20,000.
Skid steers usually do not come standard with a cab enclosure and heating system. Budget up to about $2,000 extra to add those features.
Better technology - Technology is always advancing. New skid steer loaders have better maneuverability and more advanced safety features. They tend to be easier to operate, too.
More choice - Buying new means you can design the machine to your exact specifications. Choose the perfect size and buy only the attachments you plan to use. Don't need a cab enclosure? Skip it.
Warranty protection - New skid steer loaders are sold with comprehensive warranties. You won't have to worry about paying for repairs, should anything go wrong, for at least the first year.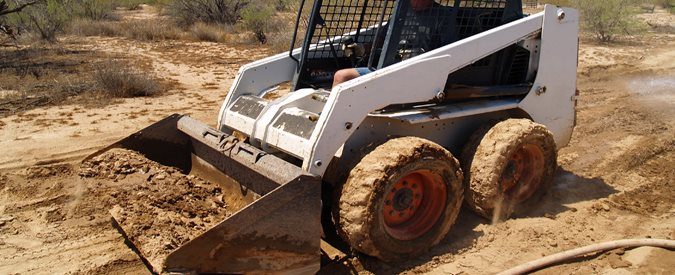 Compare Skid Steer Pricing
Fill out our 30 second free form to receive competitive pricing from pre-screened skid steer dealers. No commitments. Our service is always free!
Cost - Skid steers are expensive pieces of equipment. Buying new requires a significant investment. For small companies, buying new might be cost prohibitive.
Depreciation - New skid steers depreciate very quickly in the first few years. With a used machine, you won't have to worry about that.
If you're on a tight budget, buying used might be a better option. Buying a used skid steer loader is also wise if you plan to use the machine only occasionally. It doesn't make sense to shell out $20,000 for a brand new machine if it's going to sit in a garage most of the time.
Most dealers sell both new and used skid steer loaders. Some dealers even offer extended warranties on used machines. However, make sure to do your homework before purchasing any used machine. Find out how many hours of use the machine has logged, check service records and have an independent mechanic inspect the machine.
Once a machine has logged more than 1,000 hours of use, the price starts to drop significantly. A $22,000 machine with 1,000 or 2,000 hours of use might sell for $15,000, including attachments. You'll pay a bargain price for a machine that still has a long useful life ahead of it.
Be wary of machines with several thousand hours of use. You may think you're getting a great deal by purchasing a machine with 5,000 hours of use for a fraction of the original price, but if that machine breaks down after only a couple of months, you won't feel so good about the purchase.
Cost - Buying used will save you a significant amount of money. It's not unheard of to find a reliable machine with a decent lifespan ahead of it for half the original price. Again, if you're using the skid steer only occasionally, this is probably the best way to go.
Older technology - You'll miss out on modern features and technological advancements with a used skid steer loader. The machine may be harder to operate, or it may have out-of-date safety features.
Not as reliable - In most cases, older machines are simply not as reliable. Plan to have the skid steer serviced more often, and budget extra for regular maintenance and occasional repairs.
Compare Skid Steer Pricing
Fill out our 30 second free form to receive competitive pricing from pre-screened skid steer dealers. No commitments. Our service is always free!