Last Updated: February 07, 2023
How Much Does a Medical Cleaning Company Cost?
KompareIt.com message: Let us do the work for you. Answer a few short questions & get cost estimates for your needs from trusted commercial cleaners who service your area. Our service is 100% free!
In a hospital environment, your goal is to see that patients get well and remain well. The last thing you want to do is make them sick. Needless to say, cleanliness is absolutely crucial. A sanitary environment prevents the spread of disease and infection, and it makes patients feel more comfortable.
Many hospitals choose to hire a professional service for some or all cleaning tasks, rather than handle all of the cleaning in house. Hospital cleaning is considerably more expensive than other types of commercial cleaning, but that's no surprise - you can't trust just anyone with a task so important.
Hospital cleaning is specialized work, making it extremely difficult to estimate the cost without seeking quotes from local cleaning services. Every hospital is different and has different needs. Some hospitals want top-to-bottom cleaning, while others just need supplemental services such as vacuuming, dusting, sweeping and mopping in waiting rooms and other common areas.
Generally, hospital cleaning is about 25 to 50 percent more expensive than regular commercial cleaning. If a janitorial service charges $.05-$.20 per square foot for office cleaning, it might charge $.06-$.30 per square foot to clean a hospital. If the rate for office cleanings is $20-$50 per hour, it might be $25-$75 an hour for a hospital or medical facility. Billing is usually on a monthly basis.
Again, it is important to stress that rates can vary dramatically. You could end up paying slightly less or far more depending on the size of your hospital, its cleaning needs and where it is located.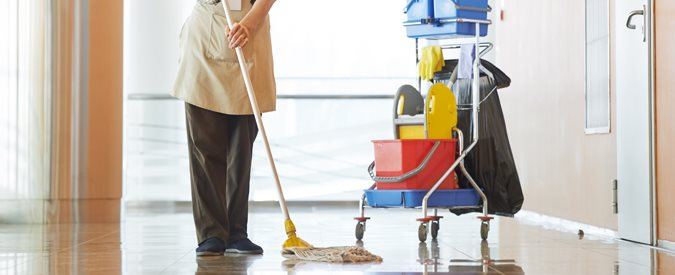 Compare Medical Cleaning Rates
Fill out our 30 second free form to receive competitive pricing from pre-screened commercial cleaners. No commitments. Our service is always free!
It is important to hire a cleaning service that specializes in hospital cleaning. Employees will be trained in exactly how to halt the spread of diseases, how to prevent the spread of viruses and bacteria and how to properly sanitize all surfaces and examination areas. A company that specializes in hospital cleaning will also understand how to clean around expensive and delicate medical equipment without damaging it.
Specifically, look for a cleaning service that:
Follows Occupational Health and Safety Administration compliance protocols for proper cleaning and sanitation;
Understands the causes of cross contamination and how to prevent it;
Uses hospital-grade disinfectants and sanitizers;
Is trained on the proper disposal of contaminants such as blood-borne pathogens;
Uses HEPA vacuum filters for improved air quality and nanofiber technology to contain dust and allergens.
One of the best ways to evaluate a hospital cleaning service is to examine the HCAHPS cleanliness scores of other hospitals it cleans. HCAHPS scores are based on patients' perceptions of cleanliness. Ask for a list of current and former hospital clients, then check to make sure their cleanliness scores are sufficient.
You should never sacrifice quality to save a few bucks on a cleaning service, particularly in a hospital environment. However, you also want to make sure the price you're paying is fair. Here are some tips for getting the best possible rate.
Shop around. Seek quotes from multiple cleaning services to find the best price. However, keep in mind that the lowest price is not always the best deal. You want a company with significant experience, which usually comes at a cost.
Negotiate. Ask for an introductory rate or a discount for signing a long-term contract. Most companies are willing to work with you on price - as long as your requests are within reason. If you don't ask, you'll never know.
Tackle some of the lighter cleaning duties in house. There's no reason why your staff can't handle simple tasks such as sweeping and emptying non-hazardous wastebaskets. The less the cleaning service has to do, the lower the bill.
Compare Medical Cleaning Rates
Fill out our 30 second free form to receive competitive pricing from pre-screened commercial cleaners. No commitments. Our service is always free!