Last Updated: February 07, 2023
How Much Does it Cost to Hire a Commercial Carpet Cleaning Company?
KompareIt.com message: Let us do the work for you. Answer a few short questions & get cost estimates for your needs from trusted commercial cleaners who service your area. Our service is 100% free!
Commercial carpet cleaning has an average cost between $0.15 and $0.20 per square foot, depending on the cleaning method used and the area being treated. Dry and steam cleaning have an average cost between $33 and $63 per room depending on whether furniture is also being cleaned and the size of the area. Tougher stains may result in an additional cost between $40 and $50.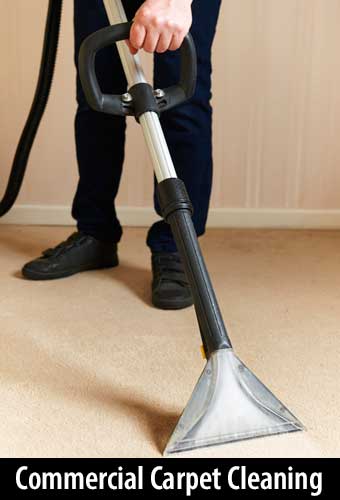 Professional cleaning companies generally use one of two main cleaning methods: dry cleaning or steam cleaning, also referred to as hot water extraction.
Dry cleaning: This method utilizes a powder or cleaning compound that is applied to the surface of the carpet. A rotating brush loosens the carpet fibers, allowing the cleaning agent to enter. The compound absorbs dirt and a device is used to suction the compound and dirt debris.
Steam cleaning: This method involves applying a cleaning agent and steam or hot water to the carpet. Then a pressurized machine uses a rotating brush to work the cleaning agent and steam or water into the carpet. A carpet cleaning device then rides and sucks up the cleaning agent, dirt, and excess water before the carpet air dries.
The cost of commercial carpet cleaning services depends on the amount of space you need cleaned, the cleaning method used, if spot cleaning is needed/wanted, and the company you hire. In general, you can expect to pay less per square foot for larger spaces, but more overall.
Commercial carpet cleaning for a 1,500 square foot office has an average cost between $0.20 and $0.25 per square foot, or between $300 and $375 in total.
Commercial carpet cleaning for a 50,000 square foot office has an average cost between $0.10 and $0.15 per square foot, or between $5,000 and $7,000 in total.
Difficult stains and spot removal come at an additional cost that averages between $20 and $40 per hour. Highly difficult stains may cost between $25 and $50 per stain.
Steam cleaning tends to cost more than dry cleaning, with an average cost between $49 and $63 per unfurnished room and between $33 and $49 per furnished room. Furnished rooms come at a lower cost due to less carpet area being cleaned.

Dry cleaning does not change in price based on whether the room is furnished, with an average cost between $50 and $54 per room.
Hiring a professional carpet cleaner comes with a host of benefits for your business, employees, clients, and any other visitors to the office. Benefits of hiring a professional carpet cleaner include:
Appearance: It goes without saying that a clean carpet always looks better than a dirty one. But beyond basic aesthetics, a clean carpet is important to presenting a professional, qualified image to existing and potential clients. Professional carpet cleaners provide everything you need to keep your business looking good.
Improved air quality: The debris, dirt, and dust that makes its way into carpet eventually finds its way into the air, where it causes odors and possible respiratory problems. A professional carpet cleaner works to remove this debris before it becomes a problem while using EPA-approved cleaning products that keep your clientele and employees healthy and safe.
Compare Commercial Carpet Cleaning Rates
Fill out our 30 second free form to receive competitive pricing from pre-screened commercial cleaners. No commitments. Our service is always free!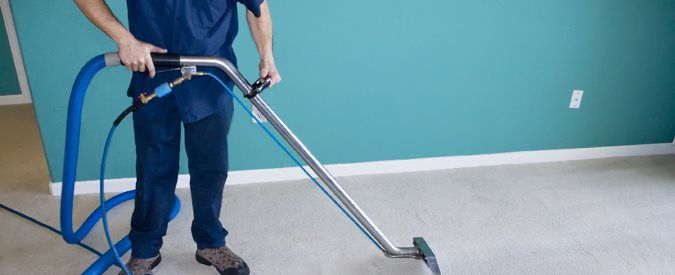 Quality work: Business owners are often tempted to handle carpet cleaning themselves, whether by simply using a vacuum or employing chemicals and rented carpet cleaning machines. However, this does not mean you are getting the same level of clean as you would from hiring a professional. Trained professionals know how to properly use the equipment and what methods will work best for your particular carpet and building. A professional gets the job done right and provides a cleaning that lasts longer.
Watch this video to see how a professional commercial carpet cleaning company can trasform your office carpets.
Choosing a carpet cleaning company is like looking for any other product or service: you want one that suits your needs. Many consider the cost alone when considering companies and, while it is an important factor, it should never be the only thing you think about. When looking at different cleaning services, consider the following:
Chemicals: A company may use multiple chemicals and cleaning agents to clean your carpet. However, not all chemicals can be used on all carpets, and when the wrong combination interacts it can cause damage. Be sure to ask any potential candidates about their cleaning agents and how they may affect your carpet. If possible, test their cleaning chemicals. Simply pour it into a plastic dish or cup; if there is no residue there, there will be none on your carpet.
Customer service: The level of service a company provides to its customers is perhaps one of the most important factors in choosing one over another. It can be hard to tell exactly what you'll get from a company before signing on, but you can usually get an idea of its commitment to you as a customer right at the start. The best way to see how a company treats its customers is to find reviews and ask others about their experiences.
Expertise: The chemicals and methods used to clean your carpet are important, but just as important is the qualification of the person treating your carpet. If a cleaning company sends someone out that doesn't have much experience, you can wind up with more issues than before the cleaning. You want to be sure your technician is trained, certified, and experienced. It is a good idea to check and see if your preferred company is certified by the Carpet and Rug Institute.
Method: Different companies use different cleaning methods (i.e, dry or steam) depending on the type of services they provide and the type of carpet you have. It is important to ask the company about its standard method and whether there are any potential risks for your carpet.
References:
Compare Commercial Carpet Cleaning Rates
Fill out our 30 second free form to receive competitive pricing from pre-screened commercial cleaners. No commitments. Our service is always free!